Prospect Pulock eyes shot to make Isles' roster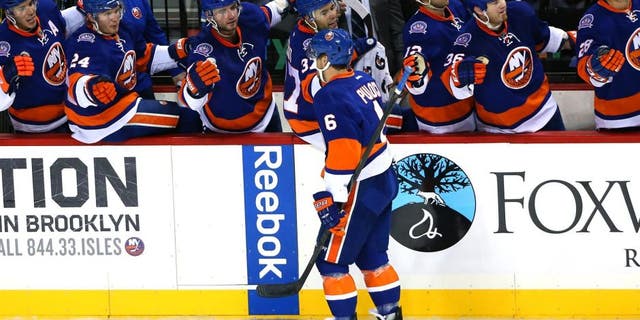 Defenseman Ryan Pulock missed a golden opportunity to gain a roster spot with the New York Islanders in 2014-15 after suffering a groin injury during the preseason.
The 15th overall pick of the 2013 draft, Pulock looks for another opportunity to make coach Jack Capuano's squad with training camp on the horizon. Pulock possesses a booming shot that played an integral role in his scoring 13 of his 17 goals on the power play with Bridgeport of the American Hockey League last season.
"Offensively, that's always been a big part of my game. Big shot and can move the puck well, but it's the defensive zone I need to continue to work on so I can become that solid two-way defender," the 20-year-old Manitoba native told Islanders Insight. "I do think my defensive game improved last year quite a bit, but it's an area that I need to take continued steps in if I want to stick around on this team and in this league."
Pulock was called up from the Sound Tigers toward the tail end of Islanders' first-round playoff series versus the Washington Capitals. The 6-foot-2, 214-pound Pulock participated in warmups prior to Game 6, but did not see any action.
"It's an entirely different atmosphere and it was certainly special to be able to be there for it," Pulock said. "Being that close has given me that itch to push that much harder to make the team and be an everyday player this season."
(h/t Islanders Insight)