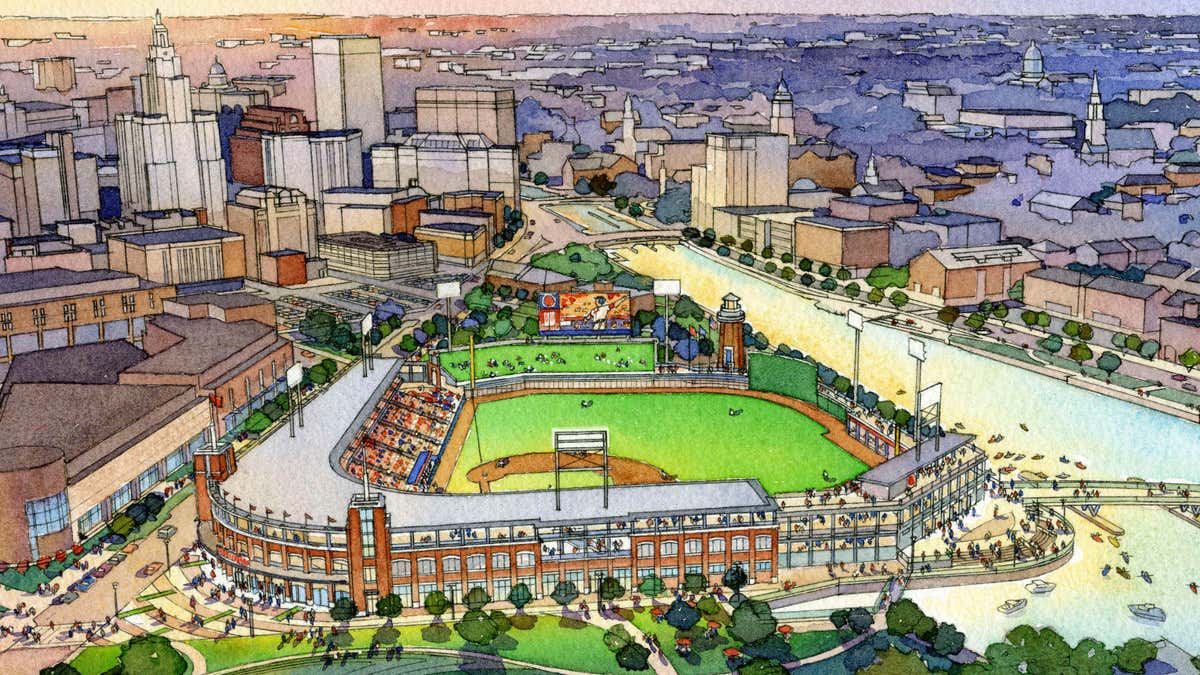 PROVIDENCE, R.I. – The new owners of the Pawtucket Red Sox minor league baseball team said Wednesday that a multi-use ballpark in downtown Providence would generate $12.3 million annually in spending for the city and the state but they would seek help from taxpayers — $120 million over 30 years — and ask to be exempt from real estate taxes.
Team president James Skeffington and consultants from Brailsford & Dunlavey unveiled artists' renderings for a new waterfront stadium, along with an economic impact study commissioned by the Boston Red Sox affiliate. Their study shows the ballpark would create about $2 million annually in recurring tax revenue from sales taxes, income taxes and hotel taxes for the state and about $170,000 annually in incremental tax revenue for Providence.
For the first time, Skeffington acknowledged they would ask taxpayers to contribute $4 million a year for 30 years to rent the stadium and would ask for a 30-year exemption from city real estate taxes, saying the majority of ballparks are exempt from taxes.
"We shouldn't be taxed on something we put the money into," Skeffington said.
Last month, a sports economist said stadiums rarely, if ever, provide the economic boost promised by investors, particularly in the world of minor-league sports.
But since the new owners announced in February they had bought the Triple-A baseball franchise and planned to move from Pawtucket to Providence, about 5 miles south, Skeffington has been adamant that a new stadium would be a catalyst for economic activity, though he acknowledged that the majority of the millions of dollars generated would go back to the investors.
Nevertheless, Skeffington reiterated that they would invest their own money, saying they would pay $85 million to build the stadium, relocate underground utilities and build a 750-car parking garage nearby.
The ballpark would sit on the former highway land now owned by the I-195 Redevelopment District Commission, a state agency, and Brown University. Skeffington said the new owners have had preliminary discussions with the state and Brown University about a ground lease with the option to buy the land after 30 years but nothing is final.
Other benefits of the stadium, according to the economic impact study, include the creation of 405 jobs paying a total of $20.4 million during its construction, with an average wage of about $50,000 a year.
Team spokeswoman Patti Doyle said there would be 300 to 350 seasonal employees plus 30 to 40 full-time employees within the ballpark and the surrounding community, comprising 180 full-time equivalents totaling $6.8 million in wages. She said some full-time employees would make "considerably more" than the living wage and would have full benefits.
The living wage for a family of four in Providence is about $39,000 a year, according to the Massachusetts Institute of Technology, while the living wage for one adult with one child is about $43,000.
Gov. Gina Raimando and Providence Mayor Jorge Elorza released statements saying they would evaluate the proposal.