Pronger hoping for return before playoffs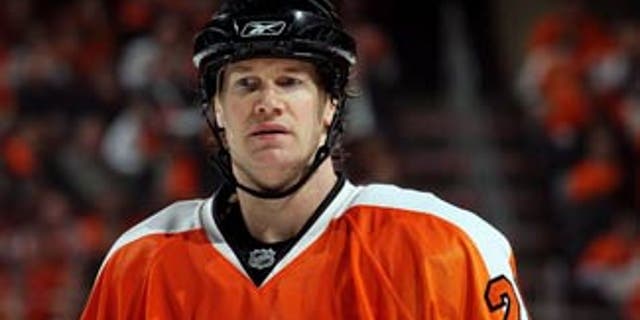 Chris Pronger can do lots of things, but predicting the future isn't one of them. So as much as the Philadelphia Flyers All-Star defenseman would like to return prior to the start of the Stanley Cup Playoffs, he's not sure if he'll be able to.
Pronger, who had surgery Tuesday to repair a broken bone in his right hand, told reporters Thursday the surgery went well.
Flyers GM Paul Holmgren said earlier in the week he expected Pronger to miss 3-4 weeks, which would put Pronger's return for the Flyers' final 13 regular-season games in doubt.
"It's all right," Pronger said of his hand, which initially was injured during a Feb. 24 game against the New York Islanders when he blocked a shot. "It's a little swollen, still bandaged up and all the rest of that stuff. I probably won't know more until we get this off in a few days as far as that goes, really just how it progresses over the next couple of weeks."
Pronger said he hopes to start riding an exercise bike and start skating again soon.
"The thing with this injury is I'm going to be able to be skating and practicing and doing all the rest of that stuff while I'm in the recovery stage, which helps," he said. "It's a lot different than when I hurt my foot (in December) and I wasn't able to skate or do anything on the ice. This is a little bit different, and I shouldn't be too far off whenever I can come back."
If Pronger makes it back in three weeks from the day of his surgery, that would be April 5 and the Flyers would have three games left. Any longer than that and he won't play until the postseason.
"He (Dr. Thomas Graham) is very happy with the way the surgery went and the way everything looked when he went inside to fix it," said Pronger, "but none of us are Kreskin. We don't really know what can happen."
Contact Adam Kimelman at akimelman@nhl.com. Follow him on Twitter: @NHLAdamK