ProFootballFocus ranks Tannehill No. 10 QB in NFL, ahead of Luck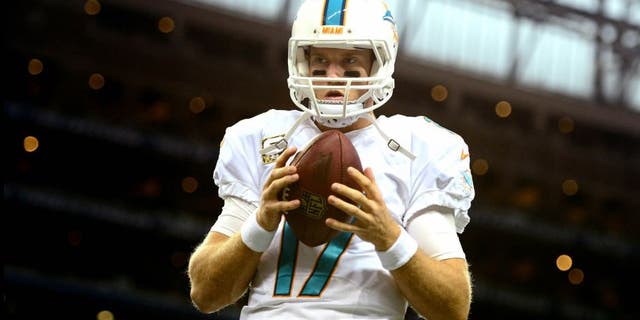 Miami Dolphins quarterback Ryan Tannehill has gotten a lot of praise this offseason and is considered to be a breakout candidate in 2015. He's improved his numbers in each of his three seasons in the league, and those numbers could continue to rise this season.
He's not quite an "elite" quarterback by the public's measures, but he's well on his way. If you don't believe so, just take a look at ProFootballFocus' rankings of the top-10 quarterbacks in the NFL, with Tannehill checking in at No. 10.
Aaron Rodgers is unsurprisingly No. 1, but one player of note missing from the list is Andrew Luck. Does that mean Tannehill is better than Luck? To ProFootballFocus, he is.
Here's what they had to say about the Dolphins' quarterback:
"Is he among the best five quarterbacks in the league yet? No, but Ryan Tannehill has quietly put himself in the top 10 with his play over the past two seasons. He was the sixth-most accurate QB in the league last year. Our sixth-highest graded passer in 2013, he dropped slightly to 10th this past season, but looks poised for a big year with the Dolphins and an improved supporting cast."
Tannehill has played well in just three years in the league, but so has Luck. He's a perennial MVP candidate and has led the Colts to the playoffs in all three seasons -- going further in the postseason each year. Tannehill has yet to reach the postseason, but 2015 could be the year.
(h/t ProFootballFocus)