Price, Habs have little time to celebrate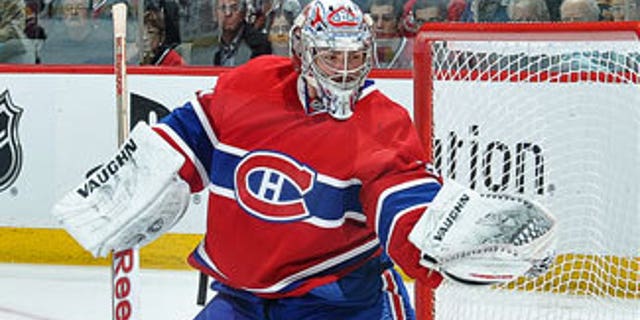 MONTREAL – The three-year anniversary of his last playoff win on home ice had passed two days before Carey Price put an emphatic end to that unpleasant seven-game streak playing in front of his own fans at the Bell Centre.
He couldn't have chosen a better time for it.
Price made 31 saves in a dramatic 2-1 Canadiens win Tuesday in Game 6 of their first round series with the rival Boston Bruins, sending the series to a deciding seventh game in Boston on Wednesday.
The quick turnaround meant Price had little time to celebrate his first home playoff win since April 24, 2008, when he beat the Philadelphia Flyers 4-3 in overtime in Game 1 of the second round series that Montreal ultimately lost in five games.
"We just take this game, we enjoy it, but we're catching a bus right away to go to Boston," Price said. "We have to re-focus and carry whatever we had from that game into the next one."
Price was at his best in the third period with his team clinging to a one-goal lead and seemingly content to sit on it for the final 20 minutes.
He set the down right after the third period began, making a nice toe save on Mark Recchi and an absolute robbery of Patrice Bergeron on the rebound at the 36-second mark of the third.
"It was just technical hockey," Price said rather matter-of-factly. "You kick it out there and try to do the right things, recover the right way, use the right leg, take up as much net as possible and keep your eye on the puck."
Sounds easy enough.
Of course, Price is leaving out the constant Bruins bombardment that followed that save.
With just under four minutes left in regulation, Price made a fantastic pad save on Chris Kelly from point blank range to maintain the Canadiens lead.
Kelly wound up taking a high-sticking penalty just after that save, except the best chance of that Canadiens' power play went to the Bruins when David Krejci wound up with the puck all alone right in front of Price and was turned away twice.
Still, in spite of what seemed like constant Bruins pressure over the final 20 minutes, Price was extremely proud of how his teammates played in front of him.
"It's definitely rewarding, our guys battled for 60 minutes and the guys deserved to win the hockey game. They laid it all on the table and got it done," Price said.
"I think our biggest challenge was to not beat ourselves. Sometimes we sit back too much, but I thought tonight we played a perfect game. We kept the pressure on for most of the third period. They obviously got some momentum, but they played well."
So now Price finds himself in a Game 7 situation, and in pointing out he has experience in this area he managed to take a subtle little dig at his Bruins counterpart Tim Thomas.
"It's going to be an excellent Game 7," he said. "I've played a Game 7 against Timmy before, and I'm sure it's going to be a great game."
The result of that Game 7 back in 2008, the only one Price has ever played that came one game before his last home playoff win all those years ago?
A 5-0 Canadiens win.