Preview: Wild vs. Panthers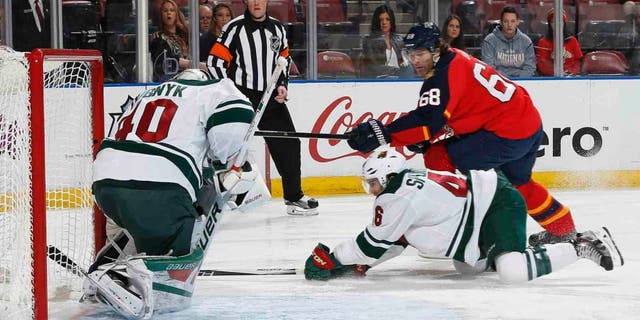 The Florida Panthers made it abundantly clear Saturday that they are all in on what could be just their second postseason appearance in the last 15 years.
A day later, they can reiterate the fresh feeling by doing something they have accomplished just once before.
After adding three new pieces, the Panthers seek only their second win in St. Paul when they visit the Minnesota Wild on Sunday.
Atlantic Division-leading Florida (35-18-8) pulled the trigger on three separate trades Saturday, acquiring forward Jiri Hudler from Calgary, defenseman Jakub Kindl from Detroit and forward Teddy Purcell from Edmonton while parting with only four draft picks and cash considerations.
The big splash was Hudler, a player just one season removed from a 31-goal, 76-point campaign with the Flames. The right winger has 10 goals and 25 assists in 53 games this season and could add some scoring punch to an offense that has totaled 14 goals on a 3-2-2 stretch.
Hudler has 16 goals and 25 assists in 77 career playoff games, which include the Red Wings' Stanley Cup run in 2008. Purcell has 11 goals and 21 assists in 61 contests this season, while Kindl has 68 points in 273 career games with Detroit.
"These guys give us some solid experience and playmaking ability and hockey sense," said general manager Dale Tallon, who noted the Panthers may not be done dealing ahead of Monday's trade deadline. "It takes an army to get to the playoffs."
The three won't be with Florida on Sunday but are expected to play at Winnipeg on Tuesday. Hudler and Purcell still have visa problems to sort through, so there is a chance they won't be eligible for Thursday's game at Colorado.
The Panthers extended their point streak to five games despite opening a five-game road trip with Saturday's 4-3 shootout loss at Columbus.
Minnesota (27-25-10) owns a 6-0-1 record with one tie against the Panthers at Xcel Energy Center, part of a 12-3-2 mark with one tie in this series overall. However, the Wild are just 1-6-3 at home since Jan. 7.
Florida, which plays 13 of its final 21 games away from home, has only 28 all-time goals against the Wild. The scoring issues continued in a Jan. 3 matchup at home, though the Panthers snapped Minnesota's three-game winning streak in this series by pulling out a 2-1 victory behind a pair of Jaromir Jagr goals and a season-high 39 saves from backup Al Montoya.
While Florida is bringing in players for the home stretch, Minnesota is expected to get one of its own back Sunday. Zach Parise is likely to return after a two-game absence due to an upper-body injury, which he confirmed was not a concussion but didn't describe any further.
Parise is tied with Charlie Coyle and Thomas Vanek for the team lead with 18 goals despite missing 11 games, offense the Wild could use after scoring just five goals on their three-game losing streak.
"Felt good today," said Parise after Saturday's practice. "This time of year, it's not fun missing games."
Devan Dubnyk sat out Friday's 3-2 loss at Washington due to a "maintenance issue," but will dress and could start for the Wild on Sunday. He made 27 saves in the loss at Florida last month, falling to 4-1 with a .939 save percentage against the Panthers.
Montoya will try to improve on his 5-0 record and .964 save percentage against the Wild in his time with the New York Islanders, Winnipeg and the Panthers since 2011.