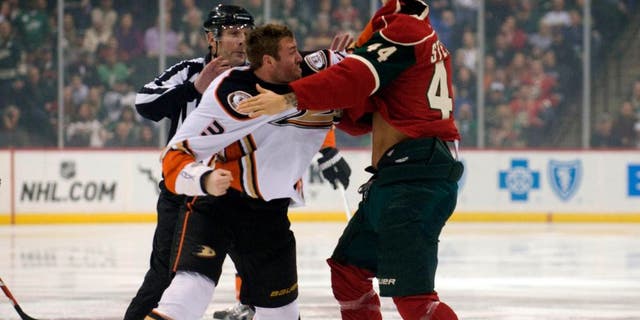 NEWYou can now listen to Fox News articles!
The Anaheim Ducks came one win shy of reaching the Stanley Cup final last spring. Now, they're roughly 37 minutes from franchise futility.
The frustrated Ducks try to avoid their longest shutout streak in team history and worst start to a season in 12 years Sunday night against the visiting Minnesota Wild.
Anaheim (0-3-1) finished with the most points in the Western Conference last season before losing to Chicago in seven games in the conference finals. That was reason enough for the Ducks to enter 2015-16 as a favorite to lift the Cup for the first time since 2007.
Instead, they've been outscored 10-1 and are staring at their worst start since losing the first five games of 2003-04. Defenseman Sami Vatanen got the only tally early in the second period of a 2-1 shootout loss to Vancouver on Monday, and Anaheim has come up empty on 91 shots over 163 minutes, 4 seconds since.
The team record of 200:26 was set as an expansion team in 1993-94, and the home mark is 177:02 in 2000-01.
The Ducks had a 35-25 shot edge Friday but still fell 3-0 to Colorado.
"From fans to players, there is no one in this organization that is happy right now," coach Bruce Boudreau said. "But I did see signs of pulling out of it. I firmly believe if we get one goal, we'll get three or four, but right now it's just such a struggle to score. I've never seen it in my time coaching, and I can't remember it when I was playing, going four games without a forward scoring. It's happening all at once."
Carl Hagelin, Jakob Silfverberg and Ryan Getzlaf have combined for 40 shots and a minus-11 rating. Hagelin didn't have a point through his first five games last season with the New York Rangers, while Silfverberg went 16 games without a goal.
Getzlaf, however, hasn't started a season with such a scoring lull since the first six games of 2011-12, when he finished with a career-low 11 goals.
"It's something that we haven't really gone through pretty much since I've been here, and it's tough," said Corey Perry, who led the Ducks with 33 goals last season and had never been held scoreless in a season's first four games. "It's going to break, and when it does, it's going to feel good."
Anaheim is averaging 2.7 goals while winning nine of its last 10 matchups with Minnesota, including four of five at Honda Center.
While the Ducks are concluding a four-game homestand, the Wild (3-0-1) enter the finale of their three-game trip with three points from the first two contests.
Minnesota is looking to bounce back from Friday's 2-1 overtime defeat at previously winless Los Angeles. Coach Mike Yeo was pleased with the Wild outshooting the Kings 12-5 in the third period and overtime after being outshot 32-14 through two periods.
"That's the thing that pleases me the most," Yeo told the team's official website. "We saw it as coaches, we saw it for sure: The guys were feeling it, and that's the mental toughness that I appreciate right there.
"We didn't accept being tired in that situation. We dug in, we got to our game in the third period, and earned a huge point."
Devan Dubnyk should be back in net after backup Darcy Kuemper made 35 saves in his season debut Friday. Dubnyk is 1-3-1 with a 2.19 goals-against average in his last five meetings with Anaheim.
Zach Parise has at least one point in each of the first four games, totaling five goals and two assists. The left wing has five goals and three assists in his last six games against the Ducks.