Preview: Vikings' defense looks to bounce back against Redskins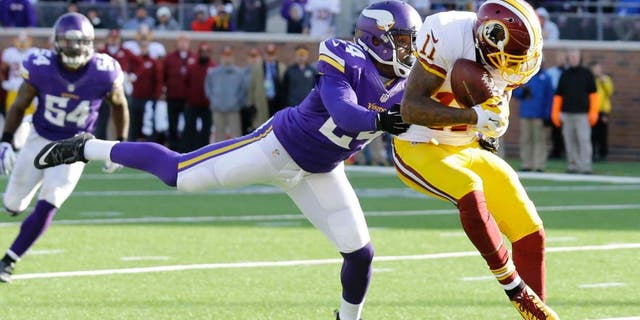 LANDOVER, Md. -- It wasn't all that long ago that Mike Zimmer's Minnesota Vikings and Jay Gruden's Washington Redskins were both on lengthy winning streaks.
Minnesota opened 5-0; Washington won four in a row at one point. When the Redskins (4-3-1) host the Vikings (5-3) on Sunday, the clubs will be trying to put an end to winless ruts that threaten to curb their playoff ambitions.
"It is a pivotal point. We need to put all our energy, our focus physically and mentally, into this game and into these next few weeks," Washington defensive lineman Ricky Jean Francois said. "This next stretch is going to tell you who's making the playoffs or not; if we're going to win the division again or not."
His coach, Gruden, concurred.
The third-place team in the NFC East comes off its bye week after a loss and a tie that followed its four-game winning run, and after the Vikings come to town, the Redskins' schedule does not get easier: vs. Green Bay, at Dallas, at Arizona, at Philadelphia.
"You hate to make one game more important than the other, but these next two games in general are going to be important. They're two home games that are very, very big for us," said Gruden, who was the offensive coordinator in Cincinnati when Zimmer ran the defense there. "We're in a position where we don't have a lot of room for error."
The NFC North-leading Vikings, meanwhile, have dropped three consecutive games.
"After the first five weeks, we were extremely confident. ... And the last three weeks, the confidence level has gone down, right?" Zimmer said.
"But that's why this game is not just about the physical part of it, but it's about the mental part of it, and the way the team feels about itself," he said. "You start out a season and you're 0-2, everybody thinks you're awful. You start out the season 2-0, everybody thinks you're great. But there's so many fluctuations and emotions throughout a 16-game season."
Here is what else to know about Sunday's game:
NO PRO BOWL TACKLE
Washington's Pro Bowl left tackle, Trent Williams, begins his four-game suspension for violating the league's drug policy, a major loss for a team that will plug in Ty Nsekhe at that key position. Nsekhe is a 31-year-old who'll be making the third NFL start of his career. "Trent is in a class by himself at tackle, he really is," Gruden said, "but when you're talking about tackle in the NFL, Ty belongs, and I think he'll do fine."
WALSH STICKS
The Vikings considered switching kickers this week, bringing in a half-dozen free agents for a tryout, but they're sticking with the struggling Blair Walsh for now. Walsh missed his league-worst third extra point and had a field-goal try blocked last week, leaving him 12 for 15 on PATs and 12 for 16 on FGs this season.
"At some point in time, you have belief and confidence in guys," Zimmer said, "because you know what they've done in the past."
FAT ROB
Redskins rookie RB Robert Kelley, he of the "Fat Rob" nickname, is expected to again be the featured back, instead of Matt Jones, after running for 87 yards on 21 carries and catching a 1-yard TD pass in his first NFL start. Kelley was an undrafted free agent out of Tulane, where he never got even 100 carries in a season. "I'm happy with how far I came," Kelley said.
LAPSES ON DEFENSE
One of the most troubling trends for the Vikings during their three-game slide has been some lapses by their dominant defense. Chicago and Detroit were a combined 14 of 28 on third downs, dropping the Vikings to 12th in the NFL in opponents' third-down conversion rate at 38.3 percent, hurt by penalties and uncharacteristic missed tackles.
RED-ZONE PROBLEMS
The Redskins have been able to drive up and down the field, but they've been stymied when they get close to the end zone, ranking 30th in the NFL in red-zone efficiency. "There are times where, in the rhythm of the play, guys aren't going to always be open. You know, if teams play max coverages and cover people, maybe everyone's not open, and that's where I look and say, `Can I scramble? Can I make a play off-schedule?'" QB Kirk Cousins said. "So those would be the two things that come to mind personally for me that I can try to improve down in the red zone."
MINNESOTA (5-3) at WASHINGTON (4-3-1)
Sunday, 1 p.m. ET, Fox
OPENING LINE -- Redskins by 2
RECORD VS. SPREAD -- Vikings 5-3, Redskins 5-3
SERIES RECORD -- Tied 12-12
LAST MEETING -- Vikings beat Redskins 29-26, Nov. 2, 2014
LAST WEEK -- Vikings lost to Lions 22-16, OT; Redskins had bye, tied Bengals 27-27 on Oct. 30
AP PRO32 RANKING -- Vikings No. 9, Redskins No. 10
VIKINGS OFFENSE -- OVERALL (32), RUSH (31), PASS (27)
VIKINGS DEFENSE -- OVERALL (3), RUSH (8), PASS (4)
REDSKINS OFFENSE -- OVERALL (4), RUSH (14), PASS (3)
REDSKINS DEFENSE -- OVERALL (22), RUSH (26), PASS (15)
STREAKS, STATS AND NOTES -- Vikings allowing league-low average of 15.8 points; also giving up fewer than 300 yards per game. ... Vikings WR Stefon Diggs, who played in college at Maryland, had career-high 13 catches for 80 yards last week vs. Detroit. ... Minnesota has five turnovers through eight games, lowest midpoint total in team history, including only one interception in 276 passes. ... After 5-0 start, Vikings have lost last three games; they haven't dropped four straight since Oct. 13-Nov. 3, 2013. ... DE Brian Robison has six sacks and three forced fumbles in past nine games. ... Since 2014, S Harrison Smith has 5 sacks, most among NFL safeties in that span. ... Redskins QB Kirk Cousins tied Hall of Famer Sonny Jurgensen's franchise record with 15th career 300-yard passing game in previous match by throwing for 458 yards in Week 8 tie against Bengals in London. ... LT Trent Williams begins serving four-game suspension under the NFL's substance abuse policy; Ty Nsekhe will make third start of NFL career at age 31. ... WR Jamison Crowder, emerging as top target for Cousins, leads Redskins with four TD catches, had nine catches for 107 yards and TD in last game. ... TE Jordan Reed's 14 TD catches tied for most among players at his position since 2015. ... LB Ryan Kerrigan leads Redskins with seven sacks; LB Trent Murphy next with six; no one else on team has more than two. ... Fantasy Tip: Redskins RB Robert Kelley, who should be available in many leagues, should continue to get increased workload after running for career-high 87 yards and TD in last game. ... Vikings' running game has been real problem, but Redskins tend to give up rush yards in chunks -- and Minnesota RB Matt Asiata scored three TDs last time these teams met.