Preview: Twins vs. Athletics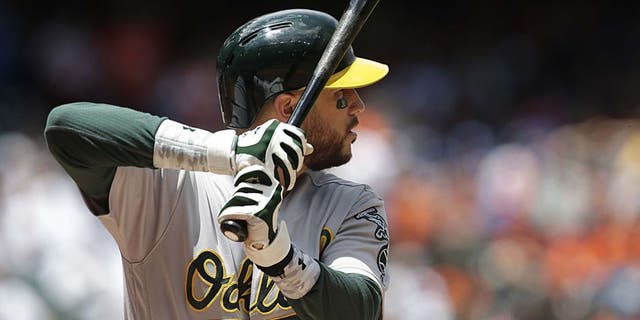 MINNEAPOLIS -- Trevor Plouffe spent more than a decade in the Minnesota Twins' organization. Selected in the first round of the 2004 draft as a high school prospect, Plouffe went on to debut with the Twins in 2010.
On Tuesday, for the first time in his professional baseball career, Plouffe will be playing against Minnesota.
The Twins chose not to keep the veteran third baseman after the 2016 season. Plouffe signed with the Oakland A's as a free agent, and he is set to return to Minnesota for a series against his former club.
"It'll be nice to see everyone again, but I want to beat up on them for sure," Plouffe told the San Francisco Chronicle. "I'm definitely going to relay some information."
In seven seasons with the Twins, Plouffe batted .247 with 96 home runs and 366 RBIs. He became an everyday third baseman by 2013. In 24 games for his new team, Plouffe is batting .207 with a .275 on-base percentage, four homers and nine RBIs.
Oakland (11-14) faces a Twins team that finished April with a winning record (12-11). A big reason for Minnesota's early success has been the hot bat of Miguel Sano, who had five RBIs on Sunday in the Twins' win over the Kansas City Royals, including his seventh homer of the year.
Sano received American League Player of the Week honors after his impressive offensive output that included three home runs and 11 RBIs in the past week.
"He had a heck of a trip," Twins manager Paul Molitor told MLB.com. "He's tough to pitch to right now. He's handling all quadrants of the strike zone really well."
Twins ace Ervin Santana will take the mound for Tuesday's series opener. Santana was one of the best starting pitchers in baseball through the first month of the season, posting a 4-0 record with a league-best 0.77 ERA. He has surrendered a total of three runs in his five starts so far.
Santana was originally on pace to start Sunday against Kansas City, but a rainout on Saturday altered the Twins' rotation plans. Santana was instead moved to Tuesday, giving the right-hander a few extra days of rest.
"The fact Ervin is coming off three games with over 100 pitches consecutively, the two (extra) days work out pretty well for him to get a little extra blow," Molitor told the St. Paul Pioneer Press.
Santana has more career victories against the A's than against any other team. He is 16-7 with a 2.00 ERA in 31 games (29 starts) vs. Oakland.
Sano and Minnesota's offense will be up against right-hander Sonny Gray, who will be making his season debut.
Gray was activated from the disabled list on Monday in advance of Tuesday's start. He had been sidelined with a lat strain.
Outfielder Ryan LaMarre was optioned to Triple-A Nashville to make room for Gray on Oakland's 25-man roster.
It was a disappointing 2016 season for Gray, who finished 5-11 with a 5.69 ERA in 22 starts for Oakland. He'll try to begin his bounce-back season against Minnesota.
"Last year is history, in my mind," Gray told the San Jose Mercury News. "People can talk about it all they want, but what's the point? What does it really matter? I'm feeling great."
Gray is 2-2 with a 4.91 ERA in four career starts vs. the Twins.