Preview: Twins at Orioles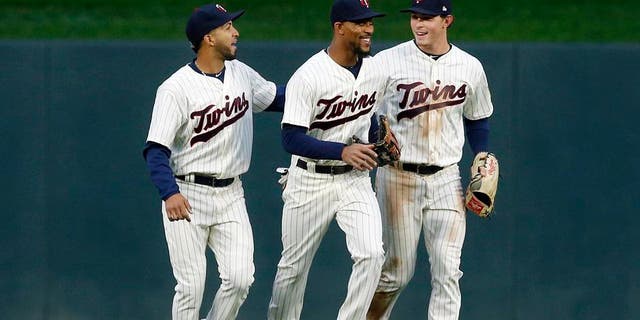 NEWYou can now listen to Fox News articles!
BALTIMORE -- The Baltimore Orioles and Minnesota Twins open a three-game series Monday at Camden Yards with both teams sitting at or near the top of their divisions.
The Orioles put a 1-6 road trip behind them by taking two of three games against the Toronto Blue Jays over the weekend. The Twins beat the Royals on Friday before splitting a doubleheader on Sunday, which has created some challenges with their starting pitching.
Minnesota will have another tough test against the Orioles, who are 15-4 at Camden Yards this season -- the best home mark in the majors. Baltimore, however, had a setback Sunday when third baseman Manny Machado was hit on the hand by a pitch from Toronto reliever Joe Smith in the eighth inning. Machado is expected to have X-rays as a precaution.
"It's always scary for any player," Orioles manager Buck Showalter said. "There's no fake drama after that like you get sometimes and some places. It was what it was. You're not trying to hit him."
Baltimore also placed utility infielder Ryan Flaherty on the 10-day disabled list with right shoulder inflammation Sunday. To fill the void, the Orioles recalled infielder Paul Janish from Triple-A Norfolk.
Baltimore right-hander Ubaldo Jimenez (1-2, 6.52 ERA) takes the hill in the opener against Minnesota. Jimenez is having another uneven season that has jeopardized his spot in the rotation. He has 29 walks and 23 strikeouts in eight appearances, including seven starts.
Jimenez, however, has been solid against the Twins over his career, going 5-3 with a 2.49 ERA in 11 appearances. The key for Jimenez is to find some consistency and go deeper into the games to take some of the pressure off the bullpen.
"Quite frankly, it seems like it's that way in all of baseball, all around the league," Showalter said. "Getting to the seventh inning is at an all-time low in Major League Baseball history right now. It's tough. (Jimenez) is capable of better."
Twins manager Paul Molitor had held off naming a starter for the series opener against the Orioles until after the second game Sunday against the Royals. Minnesota played two doubleheaders in four days, putting a strain on the pitching staff.
After the nightcap vs. Kansas City, the Twins announced that Phil Hughes, the Game 1 starter and loser, would be placed on 10-day disabled list due to shoulder discomfort. Hughes allowed five runs in four innings and served up three home runs.
Hughes' injury created a roster spot, so the Twins plan to recall Kyle Gibson (0-4, 8.20 ERA) from Triple-A Rochester to start the opener in Baltimore.
"It's very frustrating," Hughes said. "I thought, hopefully, that a lot of this was behind me. So, to have this sprout up again is frustrating. Hopefully, it's a somewhat easy answer and something I can bounce back from."
Hughes was 0-2 despite a 2.92 ERA in two starts for Rochester the past 10 days. He is 1-1 with a 3.58 ERA in five career starts against the Orioles.
Rain is expected in Baltimore on Monday. If there is a postponement, the teams share a mutual off day Thursday.