Preview: Timberwolves vs. Pelicans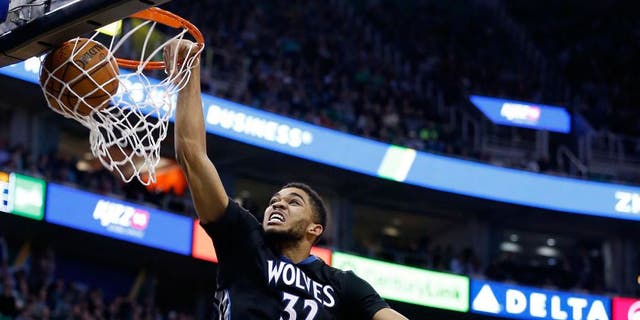 NEWYou can now listen to Fox News articles!
Last season, the New Orleans Pelicans seemed to be a team in the ascendancy in the Western Conference after Anthony Davis reached the playoffs for the first time.
This season, the Minnesota Timberwolves won't be going to the postseason but the Andrew Wiggins-led club may have stolen the mantle as the West's team on the rise.
The Timberwolves can record their second three-game win streak when they look to hand the visiting Pelicans a fifth straight defeat Monday night.
New Orleans (18-32) won 45 games a season ago to get to the playoffs for the first time in Davis' first three seasons. The Pelicans have been derailed by a 5-20 road record and numerous injuries, with Eric Gordon out with a fractured finger and fellow guard Tyreke Evans now set to be out until after the All-Star break due to right knee tendinitis.
Minnesota (16-36) will likely finish with an 11th straight losing record, although there is hope with Wiggins and rookie Karl-Anthony Towns forming a potent scoring duo. The Timberwolves are shooting 53.3 percent in their last three games, beating Chicago 112-105 on Saturday behind a combined 47 points from Towns and Wiggins.
"We've been working hard this whole year and I think it's finally coming together," Wiggins said. "The chemistry is there, we know where every guy's at, everyone knows their position, their spot on the team. We're getting better every game. Our record, we're better than what our record shows."
Towns is in a three-way tie for fifth in the league with 28 double-doubles, with Davis right behind him with 27. The rookie is averaging 22.1 points and 12.6 rebounds during a streak of seven straight double-doubles.
"I think every day everyone's seeing us get so much better as a team together," said Towns, who matched a season high Saturday with 17 boards.
The Timberwolves have been missing Kevin Garnett (leg), Kevin Martin (wrist) and Nikola Pekovic (foot), although Gorgui Dieng has blossomed since moving into the starting lineup for Garnett six games ago. Dieng is averaging 18.2 points on 67.2 percent shooting in that span with 10.5 rebounds per game.
One issue for Minnesota is that it averages 15.4 3-point attempts for the league's lowest mark and is shooting 32.0 percent from long range.
The Pelicans have been abysmal on 3-pointers in this losing streak, shooting 25.0 percent with a woeful 19.4 mark in the last three. Ryan Anderson, the team's leader among qualifying players at 38.6 percent, is 3 for 18 on 3s in this losing streak.
Anderson was 2 of 11 overall as New Orleans shot 39.1 percent in Saturday's 99-84 loss at Cleveland. Coach Alvin Gentry said afterward that he wanted to see better ball movement.
"The answer to not moving the ball is to move the ball," Davis said. "We've just got to trust in each other, trust in our teammates. We've gotta pass up a good shot for a great shot, that's how we fix that."
Norris Cole had a career-high 26 points while Davis scored 24 and grabbed 11 rebounds. Davis is averaging 30.3 points and 10.7 rebounds in his last three games.
New Orleans has won six straight over Minnesota, rallying from 17 down for a 114-99 home win Jan. 19 in which Davis scored 35.