Preview: Rays take aim at a series victory in finale vs. Reds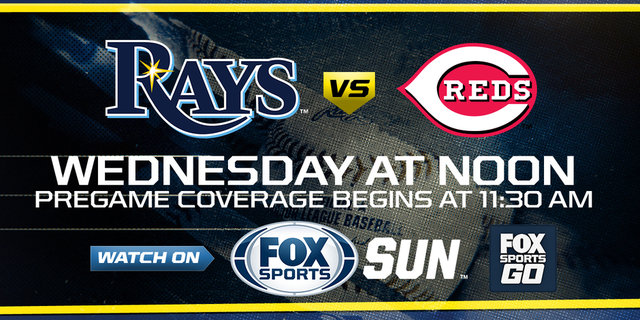 NEWYou can now listen to Fox News articles!
TV: FOX Sports Sun
TIME: Pregame coverage begins at 11:30 a.m.
ST. PETERSBURG, Fla. -- The Cincinnati Reds' struggles this season can be linked to injuries that have pressed far too many rookies into major roles.
As they close out a three-game series with the Tampa Bay Rays on Wednesday afternoon, they'll seek a consistency on the mound they haven't seen enough of in 2017.
"The one thing you have to do to learn how to pitch here is throw the ball over the plate," said Cincinnati manager Bryan Price, pointing out his staff was second in the National League in walks and last in ERA. "A lot of that comes from our inexperience, our youth. … We have to judge our pitchers that way. Base on balls, you can't defend it and it jacks up pitch counts. … It's something that just can't be an acceptable part of what we do in this organization."
On Tuesday night, there were four walks by starter Amir Garrett, who gave up six runs and was out by the fourth inning. The Reds on Wednesday go with right-hander Tim Adleman, who has given up just eight earned runs in his last five starts, but has only two wins to show for it.
On Friday, he took a 3-1 loss to the Dodgers, giving up two runs in six innings but hurting himself with four walks.
"Unfortunately in the last two to three years, it's been a huge, huge issue for us," said Price, a former pitching coach who has been saddled with injuries for much of the first half of this season.
The Rays benefitted from those walks Monday, allowing them to win a game when they gave up 13 hits while getting only eight hits themselves.
To escape with a series win against a Reds team they've historically struggled against, the Rays turn to converted reliever Erasmo Ramirez, who has struggled of late, giving up 10 runs to Detroit in a loss on Friday. His season ERA has ballooned from 2.92 to 5.17 over his last four starts, where he is 0-2 with a 10.06 ERA, putting him at risk to be sent back to a struggling bullpen.
Tampa Bay could bring back second-year pro Blake Snell, who is 4-0 with a 2.84 ERA since being sent down with his own struggles. He has 53 strikeouts in 38 innings and could replace Ramirez if he can't get back on track soon.
The Rays haven't struggled with walks, but their bullpen has been a consistent problem, giving up four runs in the final two innings of Monday's loss, then three more in the final two innings of Tuesday's win.
Closer Alex Colome has been a rare exception to the bullpen issues, but even he couldn't get a third out Tuesday, giving up three hits to put the tying run on base in a game that was 6-2 in the eighth.
One more issue to be resolved: solving the roof at Tropicana Field, which led to three defensive miscues by Rays outfielders, leading to extra-base hits and two earned runs.
"I don't care who we are facing right now, we need some wins badly and we need to get them abundantly," Rays starting pitcher Alex Cobb said.