Preview: Rays set eyes on Tigers as they begin 4-game series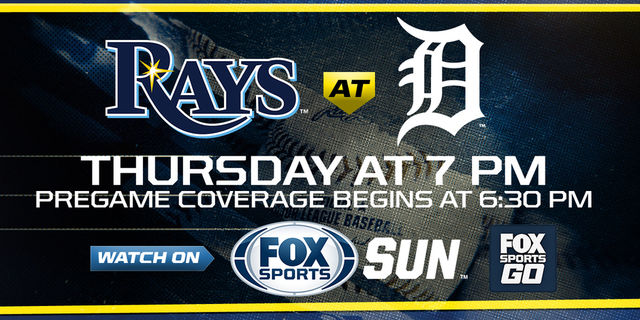 NEWYou can now listen to Fox News articles!
TV: FOX Sports Sun
TIME: Pregame coverage begins at 6:30 p.m.
DETROIT -- If it's June, Justin Verlander must be the subject of "is he aging out talk."
The veteran right-hander will make his 14th start of the season Thursday night at home against the Tampa Bay Rays coming off two starts in which he did not get a decision.
Verlander is 4-4 with a 4.68 ERA that has been plumped by a couple of starts that were flatter than roadkill, though last Saturday was not one of them. Against the Boston Red Sox, he allowed three runs and five hits in five innings in Detroit's 11-3 loss
"Last year he started a little bit slowly," Tigers manager Brad Ausmus said of Verlander, who began last season with a 4.11 ERA before finishing with a 16-9 record. "But it wasn't this slow or this long. Again, I'm not worried about him.
"I'd obviously like to see him bounce back quicker. But it's certainly not lack of effort on his part. He's working hard. He wants to be that guy again and I think he will be."
There's been some recent consternation about Verlander getting his pitch count to the 90-100 range by the fifth or sixth inning, in line with what happens to a lot of pitchers these days.
But according to the eye test, all those foul balls Verlander gets are because his fastball is probably a little straighter than sometimes and it's location is closer to the heart of the strike zone than the edges. His softer stuff (curve, two sliders and changeup) is getting spoiled, too, which suggests the big bite might not be there.
"His stuff hasn't changed," Ausmus said. "When the stuff is there, sometimes you just got to chalk it up and assume the ability will take over over the long term."
Verlander is making his 16th start against the Rays and is 8-3 with a 3.34 ERA against them.
Tampa Bay starts right-hander Alex Cobb against Detroit. He lasted pitched Friday against the Oakland Athletics when he allowed one run and four hits in six innings during a 13-0 win.
Cobb (5-5, 4.29 ERA) has turned in some strong starts against the Tigers. For his career, he is 2-1 with a 2.35 ERA in five starts, including a 1-0 win on Aug. 21, 2014 when he bested David Price.
Cobb will be making the 100th start of his career. He will become the seventh pitcher in team history to make 100 starts and the previous six pitchers are 4-0 with a 0.48 ERA in their 100th start.
The Rays will bring a 35-33 record into the game after a 7-6 loss in Toronto on Wednesday night, which featured Jake Odorizzi allowing five runs in 4 1/3 innings.
"That was probably the most off I've seen him from a strike-throwing point in a long time," Tampa Bay manager Kevin Cash said of his starter at "Maybe ever. I like the way he battled. He had some 3-0 counts, he had some 2-0 counts, he was able to get back in.
Despite Odorizzi's erratic outing, the Rays nearly completed a comeback. Logan Morrison hit a two-run homer and Derek Norris hit a game-tying sacrifice fly in the eighth but Russell Martin homered off reliever Jose Alvarado.
"Obviously there were some plays that we'd probably like to do over again, and that we've got to convert into outs, especially to help a pitcher out. But I think we'll leave here thinking about the comeback effort that we ultimately had to make it a 6-6 ballgame."
Detroit is on the skids a bit, falling to 30-34 after losing six of eight games. The Tigers struck out 11 times during a 2-1 loss to the Arizona Diamondbacks on Wednesday.
"They pitched really well," Detroit catcher Alex Avila said. "It was a little frustrating that we couldn't get that big hit to put us over them."