Preview: Rays open three-game series vs. Red Sox at Fenway Park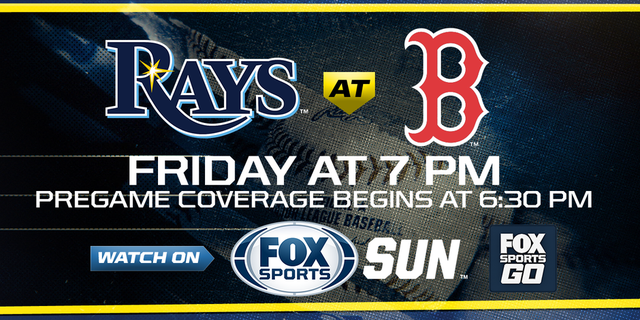 BOSTON -- The last time reigning American League Cy Young Award winner Rick Porcello faced Tampa Bay, historically one of his favorite teams to pitch against, the Rays hit four homers and hammered the Boston Red Sox right-hander for eight runs in 4 1/3 innings.
The last time Tampa Bay's Alex Cobb faced the Red Sox, one of his favorite teams to pitch against, Boston had 11 hits and four runs in five innings at Fenway Park.
The two righties hook up Friday night in the opener of a three-game Fenway series on a weekend that calls for heavy rains Saturday night and Sunday.
Porcello is 10-5 lifetime against the Rays, the 10 wins matching his high against any team. And after getting belted by Tampa Bay at Fenway on April 14, he has allowed just five earned runs in 26 2/3 innings and has been particularly sharp his last two times out.
The problem for Porcello, however, has been a lack of support -- at least until Saturday, when the Red Sox scored 11 runs for him in a win at Minnesota. Last season, Porcello received more offensive support than any starter in baseball and went 22-4. A lack of backing has led to a 2-4 start in 2017. He has a 3.95 ERA.
The victory Saturday was his first win since Opening Day.
"I just try to keep the same mindset regardless of what the score is," Porcello said after that game. "I'm looking to get the same results either way. I try and be conscious of pounding the strike zone and keeping the tempo of the game going on our side and maintaining that momentum."
Cobb (2-3, 3.56 ERA) is 3-3 with a 3.79 ERA lifetime against the Red Sox, but he is 3-1 with a 3.14 in 28 2/3 innings at Fenway.
His last time out, Cobb, too, fell victim to a lack of support -- in his strongest start since coming back from Tommy John surgery.
"Alex Cobb was just phenomenal," Rays manager Kevin Cash said after Cobb yielded two runs in eight innings on Sunday in a 2-1 loss to the Toronto Blue Jays. "Commanding the baseball. The fastball was outstanding. The curveball was outstanding. He threw some good changeups. Awesome performance on his part. Unfortunately, we just couldn't get any run support there."
On Thursday, Cobb, looking ahead, said: "I'm going to be facing a good ballclub in a tough park. "As long as I feel like I'm taking care of what I need to do on the mound, and getting the ball on the ground and not in the air so much, it'll be a recipe for a successful outing. And hopefully, I'll be able to work deep into the game."
The Rays, who lost three of four to the Kansas City Royals this week, capped by a 6-0 defeat Thursday, sport some good numbers against Porcello. Brad Miller is 7-for-23 (.304) with four homers and eight RBIs, Corey Dickerson is 7-for-22 (.318) with a homer, Logan Morrison 10-for-24 (.417) with a homer and Steven Souza Jr. 7-for-23 (.304). On the downside, Evan Longoria is 11-for-47 (.234) with a homer and Kevin Kiermaier 7-for-33 (.212).
The Red Sox, who salvaged the final game of a three-game series in Milwaukee 4-1 on Thursday to finish off a 3-3 trip, have mixed numbers vs. Cobb. Mitch Moreland is 4-for-13 (.308) with a homer, Christian Vazquez is 4-for-6, Xander Bogaerts 3-for-6 and Mookie Betts 3-for-9. Dustin Pedroia is just 5-for-21 (.238), Chris Young 2-for-10 and Jackie Bradley Jr. 1-for-7 with three strikeouts.
While the Red Sox (18-16) have yet to make a 2017 trip to St. Petersburg, they took the April series against the Rays 2-1, overcoming the Porcello loss in the series opener with a pair of wins.
This weekend -- with the Saturday night and Sunday games subject to the weather -- they will miss both Chris Archer, who beat them April 16, and Jake Odorizzi. The pair pitched the last two games of the series with the Royals.
The Rays come to Boston with a 17-20 record.
Boston designated hitter Hanley Ramirez, who was removed from the Wednesday night game with a spasm in his upper right trapezius, rested in the National League park Thursday and should be ready to go.
The Red Sox also are looking forward to David Price's first rehab start Sunday for Triple-A Pawtucket (weather permitting). Price has yet to pitch this season because of a left elbow strain.