Preview: Marlins try to cool off sizzling Scherzer to close out series vs. Washington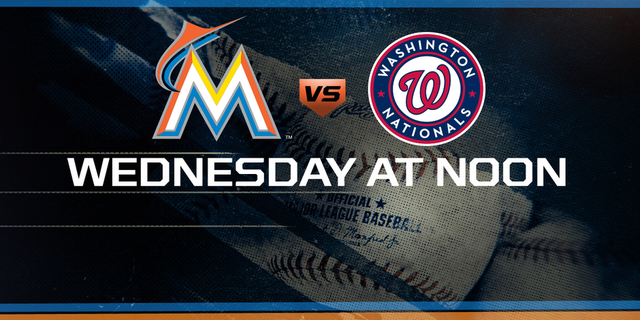 NEWYou can now listen to Fox News articles!
TIME: Noon
MIAMI -- The Washington Nationals (43-28) and host Miami Marlins (31-38) play the rubber game of their three-game set on Wednesday, and the visitors figure to have a big advantage with Max Scherzer on the mound.
Scherzer, the Washington Nationals' star who will face fellow right-hander Dan Straily, has been dominant this season with an 8-4 record and a 2.26 ERA.
But he has been even better lately, posting a 1.21 ERA in his past three starts (2-1).
Making matters even scarier for the Marlins is the fact that Scherzer has been better on the road than at home this season. He is 6-1 with a 1.84 ERA while allowing 31 hits in 58 2/3 innings away from Nationals Park.
He is also 4-1 with a 2.60 ERA in five career starts at Marlins Park.
In his past five games this season, Scherzer has struck out 58 batters. He has an active streak of five consecutive games striking out at least 10 batters.
"It's a cool accomplishment -- that's not easy to do," Scherzer told the media after his last start. "You have to be on your game. Your pitches have to be sharp every time out."
Scherzer has been on his game pretty consistently this year. Even in his losses, he has not been bad, allowing a total of 11 earned runs in those games.
This year, he has yet to face the Marlins, who are counting on Straily -- their most consistent starter -- to give them a chance to steal a win.
Straily, 19-12 since the start of last season, is 5-4 with a 3.58 ERA this season. The sixth-year major-leaguer is on pace to have the lowest ERA of his career. His 1.12 WHIP and his 9.2 strikeouts per nine innings would also be career bests.
But in three career games against Washington -- all starts, Straily is 0-1 with a 5.19 ERA. He has allowed three homers in those three games.
The Nationals scored five runs against Straily in 3 1/3 innings when they met at the start of this season in a Washington home game.
Then again, Straily has been a much better pitcher at home than on the road this year. He is 3-1 with a 2.27 ERA at home. On the road, he is 2-3 with a 4.93 ERA.
Straily is coming off a 5-0 victory over the Atlanta Braves, allowing four hits and no walks in 6 1/3 innings Friday.
"I was able to control my fastball more than anything," Straily told the media after that game in which he struck out eight batters. "That's something I was frustrated with (in previous starts). I was focused on that, and it comes down to fastball command.
"Once I get that, my other stuff plays a lot better."
As for the offenses in Wednesday's game, Washington would seem to have the edge based on their overall performance this season.
After posting a 12-3 victory Tuesday, the Nationals boasted 3-4-5-6 hitters -- the middle of their order -- that drove in 10 runs.
Bryce Harper, the three-hole hitter and team star, is the tone-setter, and Marlins manager Don Mattingly is highly aware, walking him intentionally on one occasion Tuesday.
After all, Harper is batting .315 with 18 homers and 55 RBIs, and is on a career-best 13-game hit streak.
"He plays all sides of it," Mattingly said of Harper. "He runs the bases. He plays good defense. It's just not about him hitting homers."