Preview: Marlins look to close out West coast swing with another win vs. A's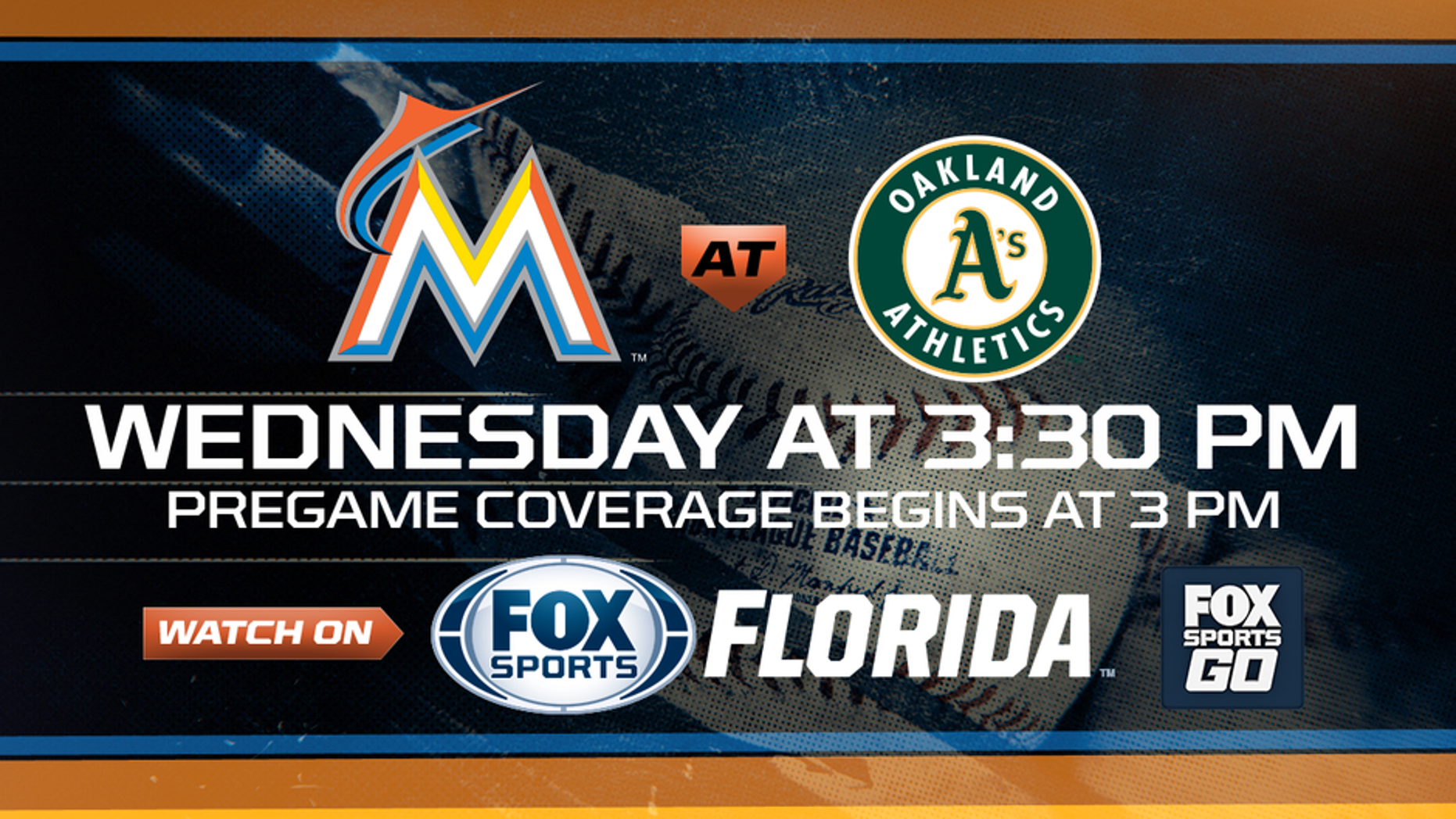 TV: FOX Sports Florida
TIME: Pregame coverage begins at 3 p.m.
OAKLAND, Calif. -- Sonny Gray took a big step in his last start toward recapturing the form he had his first three years in the major leagues.
The Oakland A's right-hander will try to make more strides Wednesday afternoon against the Miami Marlins at the Oakland Coliseum.
Gray (1-1, 3.97 ERA) allowed three runs on four hits over six innings Thursday in an 8-3 victory against the Boston Red Sox, earning his first win since July 26, 2016. He had a season-high eight strikeouts and walked one.
"I think toward the end you saw the breaking ball that you've seen in the past," A's manager Bob Melvin said Tuesday before the Athletics' 11-9 loss to Miami in the opener of a two-game interleague series. "When he's getting swings and misses and strikeouts with it, really bad swings, that's kind of where he was before he had the injuries last year.
"Each and every outing, he's getting more comfortable. The stuff is there, the fastball velocity is there, the movement. He's knocking some of the rust off as far as with his breaking ball. I think the last three or four innings of his last game was the best we've seen him."
Gray went 33-20 in his first three seasons from 2013-15. In 2015, he was 14-7 with a 2.73 ERA and was selected for the American League All-Star team. Last year, Gray went 5-11 with a 5.69 ERA and spent two stints on the disabled list, the first with a strained right trapezius and the second with a strained right forearm.
A's catcher Stephen Vogt said he saw signs of the 2015 version of Gray against Boston.
"He really made some major strides for him and got comfortable doing some things that he hadn't been doing for the last little bit," Vogt said. "We're looking for him to come out and give us a chance to win, like he does. He's our guy. He felt good, and he feels good still in between starts. He had a good feel for both breaking pitches and his changeup.
"He was Sonny. You look at the confidence he was throwing his breaking ball with and the confidence he was throwing his fastball with. That's the best feel he's had for the breaking ball in some time.
Gray will face a Marlins team that had a season-high 19 hits on Tuesday night against Oakland. Justin Bour went 4-for-5 with a double, a home run, two RBIs and four runs.
Miami right-hander Edinson Volquez will make his eighth start of the season, and he is still searching for win No. 1. Volquez, 33, is 0-6 with a 4.87 ERA in his first season with the Marlins. Last year with Kansas City, he went 10-11 with a 5.37 ERA, and he was 13-9 with a 3.55 ERA for the Royals in 2015 when they won the World Series.
Volquez has 41 strikeouts, but he has walked 27 in 40 2/3 innings.
"I just want (Volquez) to be able to attack the strike zone as much as anything with his stuff," Marlins manager Don Mattingly said. "If he's getting ahead with his fastball and being able to locate it, everything works off of that. His changeup works off of that, his curveball works off of that and his slider works off of that.
"When he's out of the strike zone, behind in the count, it puts hitters in a better position and he can't be as aggressive. Hitters aren't as aggressive so they're not chasing as much."
Oakland had three home runs on Tuesday, one each from Yonder Alonso, Ryon Healy and Rajai Davis. Oakland has 67 home runs this season and has homered in 15 of the past 16 games.
Alonso, who as a career-high 13 home runs, returned to the lineup after missing four consecutive games with a strained left knee. However, he was hit by a pitch in the right hand in the sixth inning and left the game before the start of the seventh with contusions on his hand and wrist. X-rays were negative, but it was not known whether Alonso would be able to play Wednesday.
Marlins center fielder Christian Yelich left the game in the bottom of the eighth inning with a hip flexor injury. He is day-to-day.