Preview: Marlins get Edinson Volquez back for 2nd game vs. Braves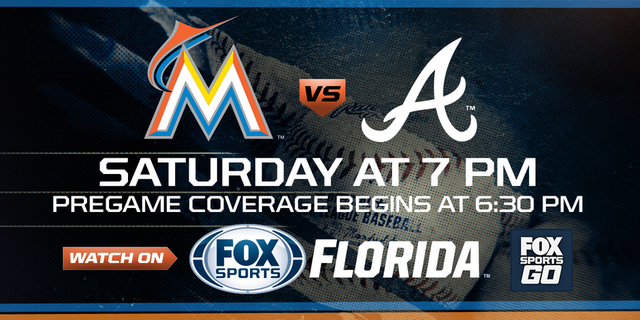 TV: FOX Sports Florida
TIME: Pregame coverage begins at 6:30 p.m.
CAN'T GET TO A TV? WATCH IT LIVE ON FOX SPORTS GO
MIAMI -- Edinson Volquez to the rescue … or at least that is what the Miami Marlins hope.
The Marlins are mired in a dreadful slump -- they have lost 13 of their past 16 games, including four in a row -- and turn to a pitcher who has yet to win a game this season and is coming off the disabled list to pitch for the first time since May 2.
Manager Don Mattingly expressed confidence that his Marlins (13-21) can defeat the Atlanta Braves (12-20) on Saturday night in a matchup of two teams locked in a virtual last-place tie in the National League East.
"I'm not going to sit here and be discouraged," Mattingly said. "It's a tough time, and it's going to test us. We have to keep fighting, and this thing will right itself."
The Marlins certainly hope so, but Friday's 8-4 loss to Atlanta has given the Braves hope that they can do some damage this weekend.
"We're way better than what we've shown so far," said Atlanta right-hander Mike Foltynewicz, who posted his first win of the season on Friday. "I just went out there and battled my butt off to try to get this thing turned around."
Mission accomplished. The Braves snapped a six-game skid and now try to start an actual winning streak on Saturday with right-hander Julio Teheran on the mound.
There is a bit of symmetry between Volquez and Teheran. Both started on Opening Day this year, and both have been disappointing, especially with their walk rates.
Volquez (0-4, 4.71 ERA) hasn't pitched since he struck out nine but walked eight in a bizarre performance and loss to the Tampa Bay Rays.
After that game, he went on the disabled list due to a blister on his right thumb.
He is allowing 6.9 walks per nine innings this year, highly disappointing since his bases-on-balls rate was just 3.3 last year with the Kansas City Royals.
Volquez's 56.9 strike rate is the second worst in the majors for anyone who has thrown at least 400 pitches.
Perhaps Volquez's numbers against the Braves can offer Miami some hope. He went 1-0 against Atlanta last year with a 1.29 ERA. For his career, he is 4-3 with a 2.89 ERA in eight starts against the Braves.
Virtually everyone figured the Marlins would struggle to replace the late Jose Fernandez at the top of their rotation, and that has been the case.
Meanwhile, Teheran, a native of Cartagena, Colombia, was named to his second All-Star Game last year, but he has sometimes tested Atlanta's patience as he has continued to tinker with his assortment of pitches.
He is 2-3 with a 4.69 ERA this season, and he has been getting raked lately. In his past four starts, batters are hitting .295 against him, with a .373 on-base percentage. He has produced an 8.02 ERA during that span.
Last year, Teheran had a 3.21 ERA and a 2.0 walk rate. This year, he is allowing an alarming 4.5 free passes per nine innings.
One change in Saturday's lineup has been promised by Mattingly. Rookie J.T. Riddle, bothered by a finger injury earlier this week, will play shortstop, moving veteran Dee Gordon to his customary position at second base.
The Marlins this week were hit with a rash of injuries to their infield, losing third baseman Martin Prado and shortstops Miguel Rojas and Adeiny Hechavarria. All those are long-term injuries, anywhere from two weeks to at least two months.
Thankfully for the slumping Marlins, the Riddle injury was not that severe.