Preview: Marlins finish up road trip looking for series victory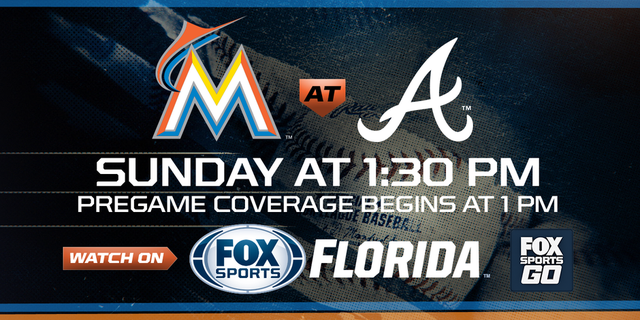 NEWYou can now listen to Fox News articles!
TV: FOX Sports Florida
TIME: Pregame coverage begins at 1 p.m.
ATLANTA -- The Miami Marlins' Jose Urena goes into his start Sunday at SunTrust Park coming off one of his better games of the season. The same can't be said for Mike Foltynewicz, his pitching opponent for the Atlanta Braves.
While Urena held Oakland to one run on three hits over six innings in recording his fourth straight victory, Foltynewicz allowed eight runs in 3 1/3 innings at Washington.
The only blemish for Urena (5-2, 3.70 ERA) in an 8-1 home victory over the Athletics on Tuesday was a first-inning balk with the bases loaded and the opposing pitcher at the plate.
Urena, who hasn't lost since May 17, retired 13 consecutive batters after that.
"He's been really good," Marlins manager Don Mattingly said. "He's aggressive and in the strike zone coming after you. He's never afraid. You'd like him to continue to develop his secondary pitches, but he's fun to watch and fun for players to play behind because he works so quick."
Foltynewicz (4-5, 4.37 ERA) had actually been a hotter pitcher than Urena coming into his last start, having turned in consecutive seven-inning scoreless outings before the rough game at Washington.
The Braves, though, rallied in the ninth inning to stun the Nationals 11-10 as catcher Tyler Flowers hit a decisive three-run blast -- Atlanta's fifth homer of the game.
Foltynewicz got six runs of early support, then left in the fourth inning with his team behind.
"They put up six runs for me, and I didn't do my job," Foltynewicz said. "Thankfully we could come back and win."
Urena, 25, came into 2017 with a 5-14 record and 5.76 ERA in 48 games (21 starts).
After making his first six appearances this season out of the bullpen, the right-hander from the Dominican Republic limited the Mets to one hit over six scoreless innings at New York on May 7 and has remained in the rotation since.
Urena lost to Braves in Miami on May 12 in his second start, allowing two runs over six innings. He is 0-3 with a 10.29 ERA against Atlanta in six career games (three starts).
Foltynewicz is 1-0 with a 3.38 ERA in two games (one start) against the Marlins this season and 2-0 with a 5.31 ERA in five career outings (four starts) against them.
Braves left fielder Matt Kemp hopes to return to the lineup after not starting the first two games of the series with left hamstring tightness.
"He could have probably been in there (Saturday), but it's better to be safe than sorry," Braves manager Brian Snitker said.
Kemp, who lined out as a pinch hitter in the sixth inning, missed nine games during a stint on the disabled list in April because of a strained right hamstring.
"The other time was way more serious," said Kemp, who tweaked his hamstring running the bases in Washington on Wednesday. "This is just being careful."
The Marlins (30-36) won 5-0 in the series opener Friday, but the Braves (30-37) rallied to send Saturday's game into extra innings before winning 8-7 in the 10th on Brandon Phillips' walk-off hit.