Preview: Marlins continue homestand against defending champion Cubs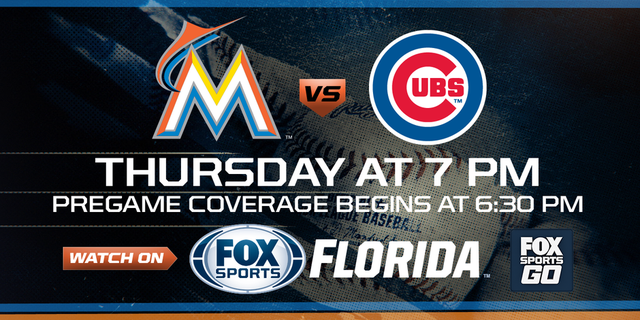 NEWYou can now listen to Fox News articles!
TV: FOX Sports Florida
TIME: Pregame coverage begins at 6:30 p.m.
MIAMI -- Chicago Cubs right-hander Jake Arrieta, the 2015 National League Cy Young Award winner and a World Series champion last year, is in an undeniable slump.
Arrieta, who pitched a no-hitter in each of the past two seasons, enters Marlins Park on Thursday with a 6-5 record and a 4.64 ERA.
He will be opposed by left-hander Jeff Locke in the opener of a four-game series between the Cubs (36-35) and Miami Marlins (32-38).
Arrieta's pedestrian numbers are coming from a pitcher who went a combined 40-14 the past two years. Arrieta's decline, though seemingly stunning, has been visible for a while now.
He was dominant in 2015 with a 1.77 ERA. Last year, he was merely very good with a 3.10 ERA.
This year, the 31-year-old has failed to pitch at least five innings on four separate occasions, including each of his past two starts. He has allowed seven runs (six earned) in his past nine innings, and the Cubs are 7-7 this year when he pitches.
That's a long way from the dominance Arrieta showed in the second half of the 2015 season, when he posted a 0.75 ERA.
His ERA was 4.44 in the second half of 2016, so, again, this trend is not a sudden occurrence.
So what's wrong?
Arrieta has pointed a finger at his workload, a career high 248 2/3 innings in 2015 and 219 2/3 last year.
"As much as we don't want to say that it carries over from season to season, I think it did have some effect," Arrieta said recently. "I threw almost 500 innings the past two years.
"I'm not hurt or injured, but my body has reacted accordingly. It's taken me longer to regain my form than I would like."
Arrieta has also dealt with a hand injury for most of the season, and that has affected his grip. His fastball velocity is down from 93.8 mph last year to 91.8 mph.
Commanding his pitches has been the biggest problem, according to Arrieta, who has also been dealing with a serious family issue -- his mother-in-law had a brain operation two weeks ago.
Locke, meanwhile, would love to have six wins. The lefty, who was on the disabled list to start the season and was only activated on June 1, is 0-2 with a 4.58 ERA in four starts.
His career numbers against the Cubs are not good -- 1-5 with a 5.98 ERA in 13 games (11 starts).
In contrast, Arrieta is 2-0 with a 1.42 ERA in three career starts against Miami.
The Marlins, though, are surely feeling confident after taking two of three games from the NL West-leading Washington Nationals. That series win included a Monday game in which the Marlins rallied from a 6-0 deficit and a Wednesday contest in which they defeated ace Max Scherzer 2-1 after he was five outs from a no-hitter.
Chicago, meanwhile, is opening an 11-game road trip, desperately trying to find its championship form of 2016.
Cubs outfielder Jason Heyward has missed three straight games because of an injury to his left hand. Cubs first baseman Anthony Rizzo had his 14-game hit streak ended Wednesday in a 3-2 loss to the San Diego Padres, and left fielder Kyle Schwarber is hitting .171.
Marlins manager Don Mattingly hopes Miami is catching the Cubs at the right time. He also hopes his team has turned a corner from a 6-18 stretch to start May.
"May was so tough," Mattingly said Wednesday, still trying to shake off the disappointment. "For a while now, we've been playing pretty good baseball. I feel good about our guys. I just want to build some momentum."