Preview: Marlins close out homestand against MLB-best Astros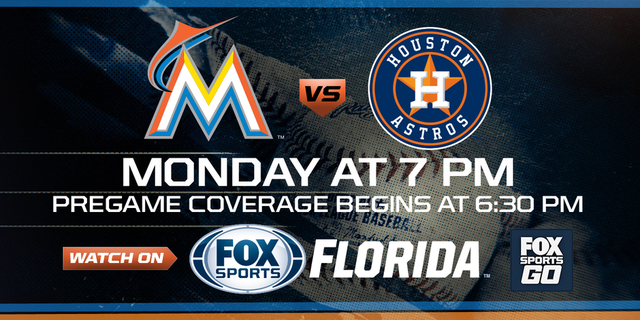 TV: FOX Sports Florida
TIME: Pregame coverage begins at 6:30 p.m.
MIAMI -- The Houston Astros, who lost a whopping 111 games in 2013, have turned things around since then and have become a force. They sport the best record in the major leagues this year, 26-12.
The Astros, who will start a three-game series at Miami against the Marlins on Monday night, are bidding for a third straight winning season.
They want to accomplish much more than that, though, and with a nucleus that begins with star shortstop Carlos Correa, 22, and electric second baseman Jose Altuve, 27, they appear to have the necessary horses.
"There are few organizations that have as exciting a young core as what we have," Astros general manager Jeff Luhnow told Lindy's Magazine. "What we need to do is deliver a championship and then multiple championships."
Houston will face a weakened opponent this week in the Marlins, who have lost 14 of their past 18 games, although Miami did snap its season-worst five-game losing streak on Sunday with a 3-1 win over the Atlanta Braves.
The Astros, who split a doubleheader against the New York Yankees on Sunday, will start right-hander Joe Musgrove (2-3, 5.02 ERA) on Monday night. Miami will counter with right-hander Dan Straily (1-3, 4.03 ERA).
While Straily, 28, is a veteran with 83 major league starts, the 24-year-old Musgrove is relatively inexperienced. He will be making just his 18th major league start, and he is 6-7 with a 4.42 ERA in his major league career.
Straily is 2-0 with a 2.25 ERA in three starts versus the Astros, while Musgrove has never faced the Marlins.
Houston's lineup is loaded. Besides Altuve (two batting titles in the past three years) in the No. 3 hole and Correa as the cleanup batter, the Astros feature an exciting young leadoff hitter, George Springer.
Springer homered twice in Sunday's second game, and he has gone deep nine times this year -- excellent pop for a leadoff batter. He is also a Gold Glove candidate. He has a strong arm, tracks the ball well and has no fear when retreating to the wall.
Playing in a National League park with no designated hitter rule might force the Astros to bench veteran outfielder Carlos Beltran in the series. However, the Astros still have other veterans in their lineup, most notably catcher Brian McCann, who is batting .270 and has hit 20 or more homers in nine consecutive seasons.
Straily, who will face the talented Astros lineup, has been tough to hit lately. In his past six starts, he has allowed four hits or less each time, striking out 8.8 batters per nine innings during that span.
But, like most Marlins pitchers this year, Straily possesses a walk rate (4.3) that is high and gets him in trouble.
There is very little history between these two organizations. The Marlins have won the past four games in this series, but the teams have not met since 2014.
One player who does connect the franchises is Astros outfielder Jake Marisnick, who was acquired from the Marlins in 2014 in a trade that sent right-hander Jarred Cosart to Miami. Cosart is no longer with the Marlins.
Marisnick is part of an exceptional Astros bench that often includes Marwin Gonzalez and Evan Gattis.
And although the Astros, by virtue of their outstanding record, will come in Monday as the clear favorite in this series, the Marlins (14-22) figure to have a bit more bounce in their collective steps after snapping their losing streak on Sunday.
Tyler Moore, whose three-run, pinch-hit homer carried the Marlins over Atlanta, indicated that his team's spirits were lifted considerably.
"It had been tough around here," Moore admitted. "It hasn't been easy at all. We've been trying to remain positive.
"Today I hope is a step in the right direction for us. It's good to see guys walk out of here with a smile."