Preview: Justin Nicolino looks for another strong start in Game 2 in L.A.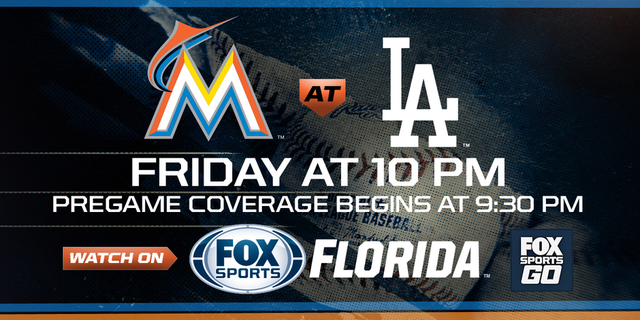 TV: FOX Sports Florida
TIME: Pregame coverage begins at 9:30 p.m.
LOS ANGELES -- The Miami Marlins would love to find any solution to stop the bleeding. So far, little has worked.
"To be honest with you, I'm not sure," first baseman Justin Bour said when asked what the Marlins need do to halt their losing ways. "It's just a matter of each guy showing up each day and eventually it will turn."
Bour attempted to turn the Marlins' misfortunes in a positive direction during a 7-2 setback to the Los Angeles Dodgers on Thursday in the opening game of a four-game series at Dodger Stadium. Bour went 2-for-3 with his ninth homer, but a lack of offense hurt the Marlins again.
The Dodgers (24-18) got a two-run homer from Yasiel Puig, two RBIs from Chase Utley and a solid outing from their bullpen, which fanned 10 of 13 batters to seal the deal.
Marlins lefty Justin Nicolino (0-0, 1.50 ERA) will oppose Dodgers southpaw Alex Wood (4-0, 2.27) in the second game of the series on Friday.
A year ago, the Marlins could do no wrong against the Dodgers. They swept a four-game series from Los Angeles in manager Don Mattingly's first return since parting ways with the Dodgers two years ago.
"Something like that would be appreciated if that could happen again," Mattingly said.
The Thursday loss was the fourth straight for the Marlins (14-26) and the 18th in the team's past 22 games. The Dodgers took advantage of five runs off Marlins starter Edinson Volquez in the first three innings to prevail.
Mattingly will give the ball to the 25-year-old Nicolino, who was 1-3 with Triple-A New Orleans before being recalled last weekend. In his major league season debut on Sunday, Nicolino received a no-decision in a 3-1 victory over the Atlanta Braves. Nicolino worked six innings, allowing a run on six hits with five strikeouts and four walks.
Nicolino, who is 8-10 in 26 major league starts, experienced one of his best outings against the Dodgers on April 28, 2016. Nicolino threw two-hit ball over 7 1/3 innings in a 2-0 win over the Dodgers. He struck out two and walked two.
In two career outings vs. Los Angeles, Nicolino is 1-1 with a 3.97 ERA.
Wood has provided the Dodgers with some solid starts after injuries forced him into the rotation. He tossed six scoreless innings Saturday, striking out 10, walking one and allowing five hits with his fourth straight win in a 4-0 Los Angeles victory at Colorado in his last start.
In his six starts this season, Wood has limited batters to a .187 average with 48 strikeouts and 11 walks in 35 2/3 innings.
Against the Marlins, Wood is 4-3 with a 3.42 ERA in 11 career games (eight starts). He hasn't faced Miami since May 16, 2015, when he was a member of the Braves. Wood allowed two runs on seven hits with one strikeout and two walks in seven innings in a game Atlanta won 5-3.
Los Angeles probably will be without third baseman Justin Turner, who left the Thursday contest after sustaining a right hamstring injury. Turner will be re-evaluated on Friday.
"I know to my eyes it didn't look good coming off third base," Dodgers manager Dave Roberts said. "But for the strength to still be there right now (is reason) to be a little optimistic."