Preview: Jake Odorizzi tries to help Rays bounce back in Cleveland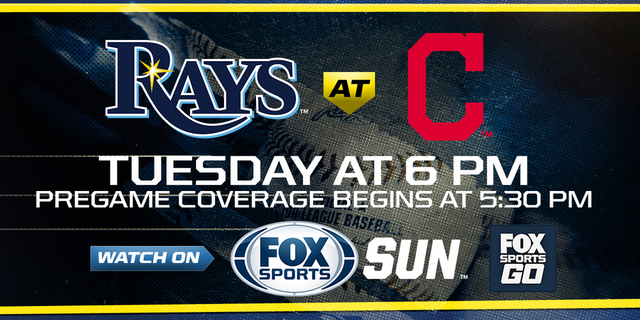 TV: FOX Sports Sun
TIME: Pregame coverage begins at 5:30 p.m.
CLEVELAND -- The Indians' crowded disabled list could grow by another player or two on Tuesday before the second game of Cleveland's three-game series with the Tampa Bay Rays.
In Cleveland's 8-7 win in the series opener on Monday night, Indians right-hander Carlos Carrasco and outfielder Abraham Almonte left the game with injuries.
Almonte has a right biceps strain, and it seems certain he will be placed on the disabled list.
"He'll have an MRI, but it's going to be awhile for him. We'll have to put him on the DL," Indians manager Terry Francona after Monday's game.
Carrasco was removed from the game in the fourth inning with left pectoral tightness.
"Nobody thinks it was anything more than that, but he wasn't letting it go," Francona said of Carrasco, who in 3 2/3 innings gave up five runs, six hits and three walks. "We'll know more tomorrow, but we're hoping a couple days will remedy it."
If Carrasco is still feeling discomfort Tuesday, he would be a candidate for the DL as well.
Indians designated hitter Edwin Encarnacion is healthy, but his batting average is not. For the first time this season, Encarnacion was moved out of the cleanup spot in the order. He batted No. 5 and first baseman Carlos Santana was the No. hitter.
The change didn't help Encarnacion, who went 0-for-5. He is now hitting .198 with five homers and 12 RBIs for the season.
Asked if he thought Encarnacion was putting too much pressure on himself, Francona said. "I don't think so. He's not slamming helmets or anything like that. He's just frustrated about how things are going."
Encarnacion will look to bounce back Tuesday against Jake Odorizzi. The Rays right-hander did not face Cleveland last year, but in three career starts vs. the Indians, he is 0-1 with a 2.92 ERA.
Odorizzi is pitching well of late. In his past four starts, he is 1-1 with a 1.42 ERA while holding opposing teams to a .154 batting average. In 19 innings, he has allowed 10 hits, with 16 strikeouts and three walks.
He needed 114 pitches to get through six innings in a tough-luck loss to the Royals on Thursday, when he allowed one run on four hits and two walks.
"Not smooth," Odorizzi said. "Just a tough day."
Odorizzi will go up against Cleveland right-hander Danny Salazar (2-3, 5.20 ERA).
The 2016 American League All-Star has experienced a disappointing start this season with short outings resulting from high pitch counts. He is averaging a career high 4.5 walks per nine innings but also a career-high 13.1 strikeouts per nine innings.
In Salazar's last start on May 10 in Toronto, he lasted just 2 2/3 innings, giving up five runs and throwing 69 pitches.
Last year, Salazar won his only start against the Rays, pitching six scoreless innings and giving up three hits and three walks with nine strikeouts. In two career starts vs. Tampa Bay, he is 2-0 with a 0.66 ERA.
Despite the Rays' 8-7 loss on Monday, manager Kevin Cash was happy with the competitiveness the team showed, especially scoring runs off Cleveland's two relief aces, Andrew Miller and Cody Allen.
"Cleveland's 'pen is the match of any 'pen in the majors," Cash said. "They are all versatile guys who can go more than one inning. Their overall stuff is as good as any bullpen in baseball, but our guys put up really good at-bats against them."