Preview: Erasmo Ramirez tries to help Rays even series against Tigers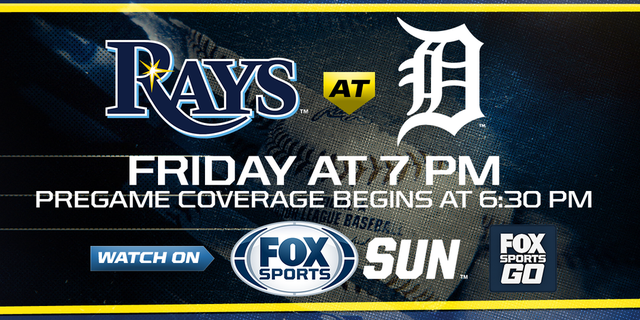 NEWYou can now listen to Fox News articles!
TV: FOX Sports sun
TIME: Coverage begins at 6:30 p.m. ET
DETROIT -- Lots of folks want to rain on Francisco Rodriguez's parade, but Detroit manager Brad Ausmus would like to spread a little sunshine in the direction of his deposed closer.
Rodriguez got booed quite loudly last Friday night when he gave up a one-out solo home run to Tampa Bay's Steven Souza Jr., which created a 3-3 tie in the eighth inning. The boos got louder when he gave up a double before getting the final two outs of the inning.
Detroit ended up winning, 5-3, when Miguel Cabrera hit a walk-off two-run home run with one out.
Rodriguez was outspoken recently about having his closer's role taken away from him, getting critical about a lack of communication from both Ausmus and pitching coach Rich Dubee.
At the time, Ausmus said left-hander Justin Wilson would remain as the closer, regardless of how Rodriguez rebounded, as long as he was getting the job done. That has happened.
But what the manager said then and said again Friday night was that Detroit needs Rodriguez as an integral part of its bullpen for the Tigers to be successful.
Right-handers Alex Wilson and Shane Greene already have reached 30 appearances this season and Justin Wilson is right behind. If that pace doesn't burn them out this year, it could well take a toll next season.
"We've got a couple good guys setting up in Greene and Alex Wilson," Ausmus said. "If I keep using them the way I'm using them, their arms are going to fall off. We need another guy able to pitch that.
"Frankie did a good job the other night in a high-leverage situation. This one wasn't as great. We're still going to need another guy to do that and he's our best option down there.
"For us to win, we're going to need that third guy in that seventh- and eighth-inning role. Because you can't consistently throw the same two guys out there night after night. They'll be done. Any hopes of making the playoffs will disappear in the last month and a half of the season because they won't be able to pitch."
Greene is pitching anywhere from the fifth through the ninth, Alex Wilson fits sixth through eighth. Ausmus wants Rodriguez to be able to spell both, and close when Justin Wilson needs time off.
While Ausmus struggles to gain some consistency with his starters and depth in his bullpen, Rays manager Kevin Cash wants to keep milking his rotation for wins.
"We know we're built on our starters," Cash said. "They're giving us opportunities to win games.
"The offense has changed a little bit. We're finding ways to score more runs. We're hitting the ball out of the ballpark. But we're still going to be built and heavily based around our starting pitching."
Tampa Bay has used that formula to fashion a 35-34 record heading into Friday night's game, where the Rays will have right-hander Erasmo Ramirez (3-1, 4.20 ERA) pitching against lefty Daniel Norris (3-4, 4.41) of Detroit. Ramirez is 1-1 with a 6.59 ERA in six games (two starts) against the Tigers.
While Norris is 0-1 with a 3.78 ERA in three career starts against the Rays, Tampa Bay has been having problems with southpaws this season. It is 8-15 against lefty starters.
"We've got guys that have got a track record of having success against lefties," Cash said. "For whatever reason it hasn't really shown up well this year. I think that leads us to believe that eventually it will even out. That's the hope.
"Talking to Chad (Mottola, hitting coach) about it at times from an offensive standpoint we've maybe looked at times to do a little bit too much against them. Where most lefties are working the righties away or throwing something that fades away from them, we're getting maybe too much pull-oriented against them."
Starting pitching was supposed to be a strength of the Tigers entering this season, but the only one to put out consistently decent starts is right-hander Michael Fulmer, who had his next start pushed back from Wednesday to Saturday because of right shoulder bursitis that required a cortisone shot.
The bullpen has been as spotty as the rotation, which is a factor in Detroit, bringing a 31-34 record into Friday night's outing. The club is unable to get a winning streak going.