Preview: Edinson Volquez tries to continue stellar June vs. Nationals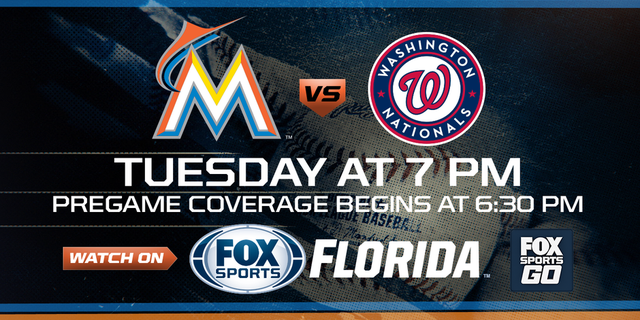 NEWYou can now listen to Fox News articles!
TV: FOX Sports Florida
TIME:Pregame coverage begins at 6:30 p.m.
MIAMI -- Their fingers are crossed.
Washington Nationals third baseman Anthony Rendon, who is often a pain in the neck to opposing pitchers, is now dealing with that same ailment -- literally, not figuratively.
Nationals manager Dusty Baker said he thinks Rendon "will be OK" on Tuesday night, when Washington takes on the host Miami Marlins in a battle between National League East rivals.
But despite that optimistic statement, the Nationals were quite frightened when the injury was sustained. Rendon felt the neck pain when he dove to his left to grab a hard grounder struck by Giancarlo Stanton.
"He's never had that before," Baker said of Rendon's neck injury. "It scared him … scared us … when you have that pain in your neck."
After losing Monday's game 8-7 to a feisty Miami team that rallied from an early six-run deficit, the Nationals are hoping to have Rendon, who hit his 13th homer of the season earlier in the game.
"Just a little jolt in my neck, a little whiplash maybe," Rendon told the media on Monday night. "My neck didn't feel too good the next two innings.
"But it's nothing too serious. We're just trying to be a little cautious."
Few would blame the Nationals for taking that approach as Washington leads the second-place Atlanta Braves by 9 1/2 games.
The Nationals, who have lost two of their past three series, will send left-hander Gio Gonzalez (6-1, 2.89 ERA) to the mound on Tuesday night.
Miami, which has lost three of its past four series, is set to use right-hander Edinson Volquez (3-7, 3.72 ERA), who threw a no-hitter earlier this season and has won three straight decisions.
Gonzalez, a native of Miami Dade County, is 1-2 with a 4.24 ERA in four career starts at Marlins Park. In his past three starts against the Marlins, he has been very good, sporting an 0.55 ERA.
Volquez has made eight career starts against the Nationals and is 2-3 with a 3.77 ERA. He held the Nationals scoreless in five innings the first time he faced them this season, back in April.
In four previous stats, Volquez is 3-0 with a 1.73 ERA.
Gonzalez held Miami scoreless for six innings earlier this year, and he is 6-3 with a 2.03 ERA in 12 career starts against the Marlins.
Meanwhile, the Marlins' offense, which came back from a six-run deficit to beat the Nationals on Monday, is looking forward to beating the Nationals.
"We're getting a lot of really good at-bats. We were able to come back because there's a really good feeling for those guys," Miami manager Don Mattingly said.