Preview: Bucks vs. Raptors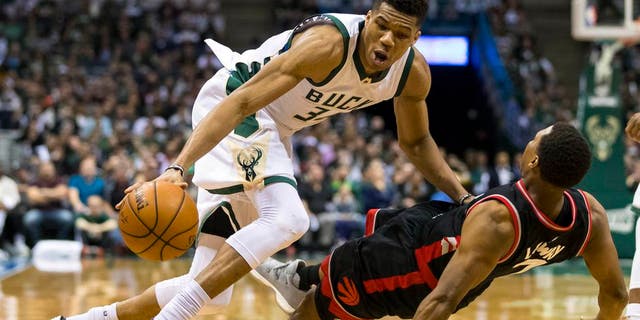 NEWYou can now listen to Fox News articles!
MILWAUKEE -- In their 22 seasons, postseason success hasn't exactly been a hallmark of the Toronto Raptors.
Now, with a chance to clinch a first-round series for the second straight season and just the third time in franchise history, the Raptors will try to ignore their past when they take on the Milwaukee Bucks in Game 6 of a first-round, Eastern Conference playoff series Thursday at the Bradley Center.
The Raptors have never won three playoff games in a row, but are in a position to do just that as well as wrap up a physical series a little early, providing some extra time to rest before a potential second-round matchup with the Cleveland Cavaliers.
"Hopefully we've learned a lesson," forward DeMarre Carroll said. "We don't want to come back home and try to take care of this athletic, long Milwaukee team. We want to take care of them on the road."
Milwaukee is certain to make adjustments after dropping two straight in a series they led 2-1 after a 27-point home rout in Game 3, but Raptors head coach Dwane Casey thinks his team is prepared for whatever the Bucks throw their way.
"We think about that after every game -- win, lose or draw," Casey said. "We try to anticipate what they're going to do. That's part of the chess match."
History isn't on the Bucks' side, either.
Milwaukee lost its last seven playoffs series, including six in a row in the first round. The last two both ended in Game 6, and both ended painfully.
In 2010, the Bucks shocked the Atlanta Hawks by taking a 3-2 lead in the series but shot just 32.9 percent from the field while Brandon Jennings and John Salmons combined to hit just 6 of 28 shots, with Salmons going 2-for-13.
Atlanta evened the series with an 83-69 victory in Milwaukee then clinched the series two nights later in Atlanta.
Five years later, the Bucks forced a Game 6 after digging out of a 3-0 hole with two straight victories against the Chicago Bulls only to be embarrassed, 120-66, in a home arena full of visiting fans.
Now, though, with head coach Jason Kidd steering Milwaukee's ship, the Bucks are hoping to take another step in their development while staving off elimination.
"We're lacking the experience of what's coming," Kidd said. "We can talk about it, but we have to go through that process, we have to walk through that door. For a lot of these guys, they've never seen this. This team has been to the Eastern Conference finals, they've been there. Their coach has seen this before."
The Bucks should have shooting guard Khris Middleton available Thursday night. He sat out practice Wednesday because of an illness, but Kidd said the absence was more precautionary.
Middleton scored eight points on 3-for-8 shooting with a 3-pointer in Game 5. For the series, he's averaging 13.6 points on 38.5 percent shooting with 4.8 rebounds and 5.4 assists.
Should Milwaukee win, Game 7 would be played Saturday in Toronto.