Preview: Bucks vs. Pelicans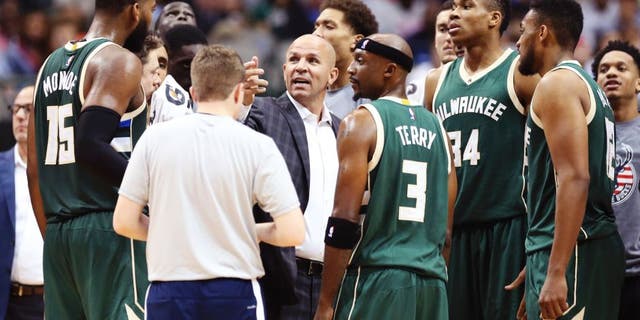 MILWAUKEE -- Center Anthony Davis is off to a fantastic start but not much else has gone right this season for the New Orleans Pelicans.
In search for their first victory, the Pelicans will look to get it in gear on Thursday night when they visit the Milwaukee Bucks.
Davis is fourth in the league with 30.9 points per game and among the league leaders in rebounds, steals, blocks and double-doubles. It hasn't amounted to much, though. The Pelicans are 21st in scoring, 24th in shooting, eighth in points allowed and 14th in opponents shooting percentage.
Put it all together and the result is a frustrating 0-8 record on the season.
"We still have breakdowns in the game plan, which you can't do from a mental standpoint," New Orleans coach Alvin Gentry said. "We have crucial turnovers at critical times in the game. We've just got to play better and smarter."
Part of New Orleans' problem so far stems from a short-handed roster. The Pelicans have been playing without three key starters: Tyreke Evans and Quincy Poindexter have been battling knee problems while J'Rue Holiday is out for personal reasons.
Gentry refused to use the personnel shortages as an excuse, however.
"We just have to play better," Gentry told reporters after the Pelicans' 102-94 loss at Sacramento Tuesday night. "There's just no way of getting around it. The effort is good and I talked to the guys about the fact that I love the way we are playing hard. But we all have to play smart. In some cases we are not playing smart."
The Bucks (4-3), meanwhile, will be looking to get back on track after their three-game winning streak was snapped Sunday night in Dallas, where poor shooting and lackluster defense doomed Milwaukee to an ugly 86-75 overtime loss.
"We just really played bad," forward Jabari Parker said. "Even in overtime, we only scored one point. We can't let that happen. We had to get them out of their groove and close it out to seal the deal."
Taking care of the ball has been something of a problem this season for the Bucks, who are allowing 18.1 points per game on 16.1 turnovers. The problem was evident again Sunday as Milwaukee gave up 21 points on 27 turnovers.
"We turned it over three straight times, and if you're going to win a game on the road in overtime, you can't turn the ball over," head coach Jason Kidd said.
The two teams met earlier this month in New Orleans with Milwaukee holding on late for a 117-113 victory to snap a 14-year losing streak in the Crescent City. Davis scored 35 points, but most of his points came from the free throw line - where he made 17 of 18 attempts. From the field, Davis went 9 of 21 while the Pelicans shot 43.9 percent as a team.
"We just wanted to make him work for it," Bucks center John Henson said.
Milwaukee, meanwhile, shot 48 percent from the floor and hit 10 of 32 3-point attempts while getting 24 points from Giannis Antetokounmpo and 21 from Jabari Parker.
"I think tonight was the first time we really trusted our offense," point guard Malcom Brogdon said. "We stuck to the game plan. We played like a team and battled through it,"
That loss dropped the Pelicans to 0-4 on the year.