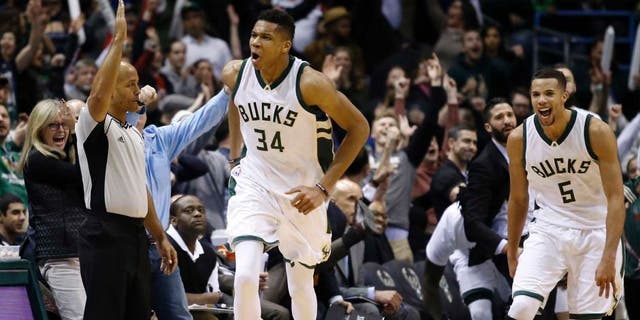 While he still believes the Atlanta Hawks can rediscover last season's form, coach Mike Budenholzer knows at some point his players have to start showing it on the floor.
After a troubling defeat to open the second half, the Hawks will try to avoid their longest home skid in nearly two years and deal the Milwaukee Bucks a seventh straight road loss Saturday night.
With the club far off last year's record-setting 60-win pace, Al Horford and Jeff Teague were the subject of trade rumors prior to Thursday's deadline before Atlanta opted to stick with its core.
The Hawks (31-25) did little to instill faith in a potential surge upon returning from the All-Star break. They committed 21 turnovers and lost sole possession of the Southeast Division lead with Friday's 115-111 home defeat to a Miami team that played without All-Stars Dwyane Wade and Chris Bosh.
"I do believe in the character of our group, but at some point it has to happen on the court," Budenholzer said after Atlanta lost for the eighth time in 13 games. "That character has to come out on the court. It has to come out in the games, and I believe it will."
It'll have to if the Hawks hope to avoid losing three straight at home for the first time since March 2014. They haven't had much trouble there versus Milwaukee, winning 12 of the past 14 meetings.
The Bucks (22-33) have dropped six in a row and 23 of 28 on the road. They've averaged 93.3 points - well below their 98.1 on the season - during their away skid.
Milwaukee couldn't hold on to a 13-point third-quarter lead as its two-game winning streak ended in Friday's 98-95 home loss to Charlotte. It committed nine of its 22 turnovers in the fourth.
"We have to take care of the ball," coach Jason Kidd said. "We get offensive rebounds, and we throw it out of bounds. We have to be able to take care of the ball to get a shot in."
Jabari Parker had season highs of 23 points and 11 rebounds, Middleton added 20 points but also had a team-high six turnovers, and Giannis Antetokounmpo scored 18 with 11 boards.
Antetokounmpo has averaged 18.2 points and 8.3 rebounds in his last 16 games. He's also been tough on Atlanta, scoring 21.7 per game on 57.1 percent shooting in the past three meetings.
The third-year forward led the way with 28 points, 16 rebounds and three blocks in a 108-101 overtime home win in the first matchup Jan. 15. Middleton also came up big with 26 points, though he's scuffled with 7.3 per game on 30.6 percent shooting in three career trips to Atlanta.
Paul Millsap finished with 23 points and 10 rebounds in that contest, while Horford contributed 18 and eight. They'll look to bounce back after totaling 26 points on 8-of-24 shooting against the Heat.
Teague has averaged 21.3 points while hitting 10 of 21 from 3-point range in his last four games, but he's totaled 17 on 6-of-21 shooting with eight turnovers in his past two versus Milwaukee.
Jerryd Bayless remains out for the Bucks due to a sprained knee, while Kirk Hinrich, obtained from Chicago on Thursday, is expected to make his debut with the Hawks.