Preview: Brewers vs. Mets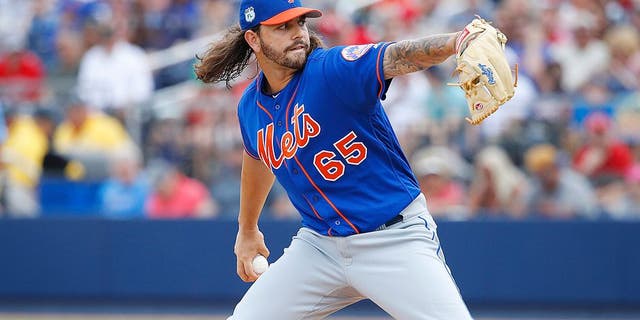 NEWYou can now listen to Fox News articles!
MILWAUKEE -- Both the Milwaukee Brewers and New York Mets will have new closers Saturday when they play Game 2 of a three-game set at Miller Park.
New York placed right-hander Jeureys Familia on the disabled list Friday after he underwent surgery to remove a blood clot in his rough shoulder, while Milwaukee pulled Neftali Feliz from his ninth-inning duties after another rocky outing a day earlier.
For the time being, Brewers manager Craig Counsell plans to use a mix-and-match approach to the ninth inning, despite the fact that right-hander Corey Knebel has been excellent this season (1.00 ERA in 19 appearances).
"How we've been using Corey I think is the best way for us," Counsell said. "The flexibility it gives us. … I'm sure that at this point it may mean him pitching in the ninth inning some. But the ability to use him at the seventh inning at times, I think that's important. And I think there's times in the game where it dictates that.
"The goal is 27 outs. I don't care what order they come in. It's, 'Let's get 27 outs.' The ability with Corey to be flexible is the best way to do it. But no matter what, this requires some other guys to step up and pitch in some big spots."
Feliz was signed over the winter to handle the ninth inning, but was 0-4 with a 6.19 ERA in 18 appearances.
"Ultimately my goal is to get him to the back end of the bullpen again," Counsell said. "But we've got to get him pitching better. So we'll take a while, hopefully get him right and work on some things and get him going confidence-wise and get some outs."
The Mets will turn to Addison Reed for the time being. He recorded four saves at the beginning of the season while Familia had to sit out 15 games for violating the league's Joint Domestic Violence, Sexual Assault and Child Abuse Policy.
Jerry Blevins, Hansel Robles and Fernando Salas will see late-inning action to set up Reed, manager Terry Collins said.
"This is a big one," Collins said. "This guy is arguably one of the best closers in the game. We lost one of the best starters in the game for a while, and now we've lost one of the best closers in the game for a while."
New York currently has seven players on the disabled list.
"These are mostly veterans in that clubhouse, and they get the ups and downs of the game," Collins said. "They don't get too frustrated. I think that's the only way to go about it.
"Now they are challenged with another situation that they're going to have to deal with. I don't think there's a better group put together that can deal with it than these guys, because they proved they can do it last year."
Right-hander Robert Gsellman will start Saturday for New York. He earned his second win of the season his last time out, allowing three runs on eight hits over five innings against the Miami Marlins.
Milwaukee counters with right-hander Zach Davies, who is 3-0 with a 3.43 ERA in his last four starts.
Davies has made two career starts against the Mets -- both coming last season -- and is 1-0 with a 3.18 ERA