Preview: Brewers vs. Braves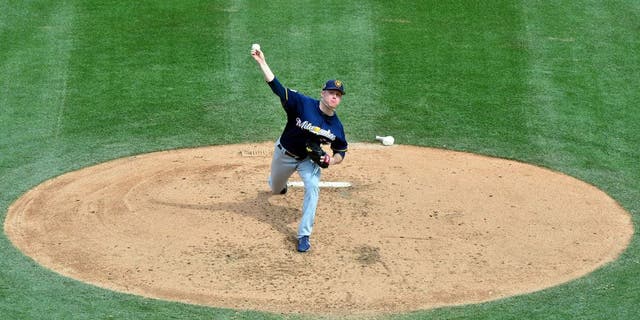 Even late in spring training, Chase Anderson wasn't sure if he would make the Milwaukee Brewers' rotation.
However, on Friday night, when the right-hander takes the mound against the Atlanta Braves in the first contest of a three-game set at Miller Park, he will do so as one of the top starters in the league.
The 29-year-old Anderson (2-0) leads the National League with a 1.13 ERA, allowing only three earned runs in 24 innings through his first four starts.
Anderson seemed bullpen-bound despite going 1-1 with a 2.79 ERA in four spring starts. Those plans changed three days before the season opener when Matt Garza wound up on the disabled list. That opened the door for Anderson, who is 7-1 with a 2.15 ERA over his past 16 starts dating back to last season.
"I think it's just a pitcher gaining experience, getting better at his craft," Brewers manager Craig Counsell said. "He's just in a sweet spot in his career where he's had some failures and some successes, and he learned from both of those."
Anderson has faced the Braves twice in his career, winning both times while holding Atlanta to four earned runs in 12 1/3 innings.
He won't be the only Brewers player looking to end the month on a high note.
First baseman Eric Thames already has the franchise record for most home runs in April with 11, and he has three games left to tie Albert Pujols and Alex Rodriguez, who hold the all-time record of 14 set in 2006 and 2007, respectively.
"I'm not trying to hit a home run. I'm trying to get a good pitch to hit and put a good swing on it," Thames said, though he added, "It's fun to make history."
Thames is expected to be back in the lineup Friday despite experiencing left hamstring tightness that forced him from the Thursday game at Cincinnati in the seventh inning. He won't have it easy against the Braves, whose starters have allowed 12 homers this season, the second fewest among NL rotations.
Atlanta right-hander Bartolo Colon (1-2, 4.50 ERA) has allowed three long balls this season. He will look for his second victory of 2017 on Friday while also trying to clean up a few things after giving up 11 hits over seven innings but only allowing four runs in a 4-3 loss to the Phillies on April 21.
"To their credit, they were getting hits off me, and fortunately for me, those hits didn't necessarily turn into runs," Colon said after that outing.
Only four batters on Milwaukee's current roster have faced the 43-year-old Colon, who is 4-3 with a 4.33 ERA in nine career starts against the Brewers.
The Braves recovered from a six-game losing skid to take a pair from the New York Mets this week, including a 7-5 victory Thursday.
"We need to get into a winning rhythm," Atlanta center fielder Ender Inciarte said. "I know we have a really good team, and everybody is doing their best."