Preview: Brewers vs. Athletics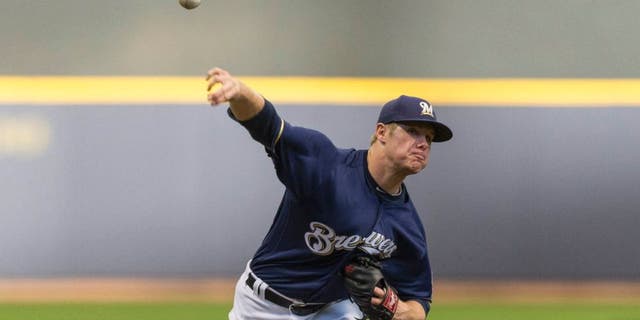 NEWYou can now listen to Fox News articles!
Chase Anderson will try to keep his recent hot stretch going Wednesday, when the Milwaukee Brewers wrap up a quick, two-game, interleague series with the Oakland Athletics at Miller Park.
Anderson has gone 2-1 with a 2.59 ERA in his last four starts, including a near no-hitter against the Chicago Cubs on May 17.
"I'm just trying to carry each outing into the next and get better each time," said Anderson, who Milwaukee acquired in an offseason deal, along with infielder Aaron Hill, in exchange for shortstop Jean Segura and right-hander Tyler Wagner. "Because you look at (Zach) Davies and Jimmy (Nelson) and those guys, they're starting to do well. So you just want to keep the line going and just do my part and pitch deep into games. That's why we're here."
He will be facing the A's for just the second time in his career; Anderson took a no-decision after allowing two runs on five hits over six innings in a 6-4 Arizona victory on August 28 of last year.
Jessie Hahn will get the nod for Oakland, which is looking to snap a four-game losing streak.
Hahn was recalled from Triple-A Nashville on May 17 for his second big league stint of the season and has gone 1-2 with an 8.05 ERA in four starts since. Opponents have been batting .342 against him during that stretch, but Hahn has allowed just one home run.
He's coming off his worst start of the season, having allowed six hits and a career-high seven earned runs in just 2/3 of an inning in a 12-2 rout by Houston last Friday.
"I thought it was going to be a really good night, but once I got started, everything felt out of whack," Hahn said after the game. "Toward the end of it, I was definitely a little frustrated, and I think I got a little overaggressive and made some stupid pitches. I just didn't feel right."
He'll have his work cut out for him against a Brewers offense that includes one of the league's hottest hitters in catcher Jonathan Lucroy, who extended his hitting streak to 10 games Tuesday in Milwaukee's 5-4 victory.
Lucroy is batting .515 (18-for-36) during that stretch, with three home runs and 11 RBI to improve his average to .316 on the season. Along with Ryan Braun (batting .335 this year) and first baseman Chris Carter (the team leader with 16 home runs, including two Tuesday), Lucroy has made the heart of Milwaukee's order one of the more formidable in the National League.
Their production has put them right smack in the center of trade rumors as the non-waiver deadline begins to draw near.
"I've learned over the years that it does you very little good to focus on things that are out of your control," Braun told ESPN.com over the weekend. "Obviously, I'm aware of it. I have friends in different cities who text or call and keep me filled in on the trade rumors. But I don't pay much attention to it because I don't have any control over it.