Preview: Brewers at Yankees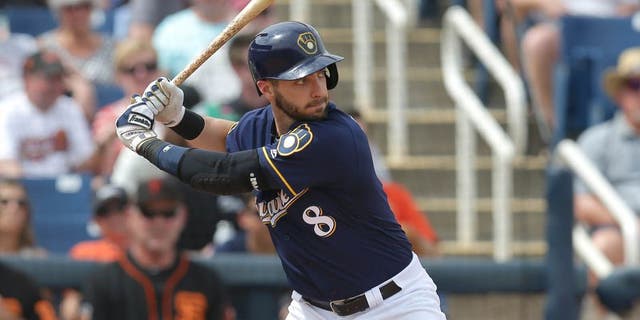 NEWYou can now listen to Fox News articles!
NEW YORK -- A month ago, the Milwaukee Brewers and New York Yankees were surprise division leaders.
Of the two, only the Brewers remain in first place.
Milwaukee will attempt to add to its lead in the National League Central while the Yankees will attempt to not fall further behind in the American League East on Friday night in the opener of a three-game series at Yankee Stadium.
The Brewers (48-40) are 16-12 in the past month, and they hold a 4 1/2 game lead on the Chicago Cubs after getting an 11-2 win in a makeup game in at Wrigley Field on Thursday afternoon.
"I think out of spring training everybody kind of knew it," Milwaukee starter Zach Davies said. "Everybody knew this team was going to surprise people. I said it from the start -- you could just tell, the energy in the clubhouse and the way the guys were jelling together that we were going to be in it."
Milwaukee is 7-1 in its past eight games, and it tied a season high with its fourth consecutive win Thursday.
"We're in a stretch right now that we're playing good baseball, and it's all phases that have played well," Brewers manager Craig Counsell said. "That's how you win six of seven, those mini streaks. We'll try to keep it going in New York."
Ryan Braun is the only remaining Brewer from the team's last visit to Yankee Stadium, and he was 7-for-10 when the Yankees outscored Milwaukee 22-4 in June 2011. He hit his 10th homer Thursday and is batting .281 (9-for-32) in eight games since returning from a second disabled-list stint June 26.
Eric Thames, who played 16 games against the Yankees with the Toronto Blue Jays in 2011 and 2012, sat out Thursday. Thames leads the Brewers with 23 homers and is 4-for-12 with three homers in four games this month after a 3-for-37 slump.
Domingo Santana had four hits and two RBI against the Cubs, giving him 34 RBI since May 15. He batted .169 in his first 21 games this season but since is hitting .323 (71-for-220).
New York (44-39) held sole possession of first place from May 20-June 18 and maintained a half-game lead on June 21. The Yankees began the year by winning 21 of their first 30 games and then reached 15 games over .500. Now they face their largest deficit of the season, 3 1/2 games.
The Yankees were 38-23 after a 5-3 road win over the Los Angeles Angels on June 12. Since then, they are 6-16, with 12 of those defeats coming by three runs or fewer.
Aaron Judge is keeping up his incredible pace with a major-league-leading 29 homers to go along with 65 RBI and 74 runs. The All-Star right fielder hit his latest homer in a 7-6 loss to the Toronto Blue Jays on Wednesday.
Judge's next homer will set a rookie record for the Yankees. The old mark was set by Hall of Famer Joe DiMaggio in 1936. Seven of Judge's homer have come during the 22-game slide, and he is batting .286 (22-for-77) in that span.
The Yankees are batting .242 in the past 22 games while averaging 4.8 runs per game. They also have slugged 25 homers but struck out 201 times in those contests.
The hitting is not the most glaring cause of New York's struggles. The pitchers have posted a 5.10 ERA in the last 22 games, but the relievers have been notably ineffective.
Dellin Betances has issued 14 walks in his past nine appearances and has an 11.05 ERA in that stretch.
"I'd rather give up hits than walking guys the way I've been doing," Betances said.
Overall, New York's bullpen has a respectable 3.58 ERA. However, since June 12, the relievers are pitching to a 5.64 ERA, and New York pitchers have allowed 50 runs in the seventh inning or later.
"Just as you lose them, you can turn it around and get hot and win a lot of games like we were before, and that's something that's very important that we do," Yankees manager Joe Girardi said. "We are scuffling right now, but we're still having opportunities to (win) games. We have to find a way to win those."
Junior Guerra (1-3, 4.93 ERA) makes his 10th start of the year for Milwaukee on Friday. He is coming off a rough outing in which he allowed four runs and eight hits in four innings of a 10-3 loss to the Miami Marlins on Sunday. In his past two starts, Guerra has allowed 12 runs and 16 hits in eight innings. He has never faced the Yankees.
New York's Friday starter, rookie Jordan Montgomery (6-4, 3.62 ERA), takes a six-start unbeaten streak into his 16th career start. He is 4-0 with a 2.95 ERA since June 3, and during those outings, opponents are hitting .171 (12-for-70) overall, .080 (2-for-25) with runners in scoring position.
Montgomery took a no-decision in his latest start when he allowed three runs and five hits in 5 1/3 innings of a 7-6 loss at Houston on Saturday.
Both starting pitchers will be facing the opponent for the first time.