Preview: Brewers at Rockies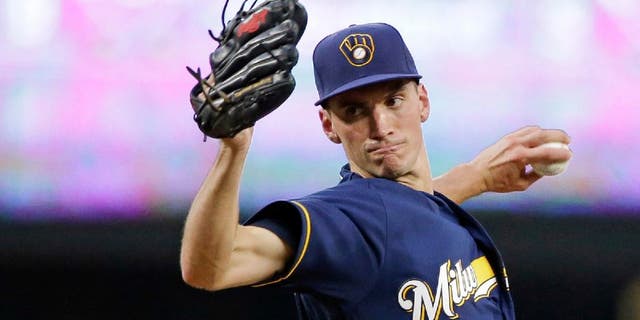 DENVER -- There will be more focus on personal achievements than collective success when also-rans Milwaukee and Colorado begin a season-ending series Friday.
Rockies third baseman Nolan Arenado has hit 40 homers, two shy of the career high he reached last year when he tied for the National League lead. He leads the NL with one more homer than Kris Bryant of the Chicago Cubs and Milwaukee's Chris Carter.
And with a major league-leading 131 RBIs, Arenado has set a career high, surpassing his major league-leading total of 130 RBIs last year.
"I was just happy to show that I could do it again," Arenado said. "I think there were a lot of people questioning whether I could do it again. So getting 40 homers again, and driving in those runs, all of that has meant a lot to me."
Rockies second baseman DJ LeMahieu is in a tight and unusual race with Washington's Daniel Murphy for the NL batting title. Murphy, who is hitting .347, hasn't played in the field since Sept. 17 due to a strained buttocks. He has been limited to two pinch-hit appearances since then, the last on Sept. 20. It's doubtful he'll appear in any of Washington's final three games and any activity will be limited to pinch-hitting.
Meanwhile, LeMahieu is hitting .349 and didn't play the final two games at San Francisco when the Giants started Jeff Samardzija and Johnny Cueto. Manager Walt Weiss will do what he can for LeMahieu.
In 2014, he didn't play Justin Morneau in the next-to-last game of the season and then used him as a pinch-hitter in the eighth inning in the final game when Morneau was certain to win the batting title.
"We'll play it by ear," Weiss said. "I've taken a lot of heat for something like this, with Morneau, and I'll fall on the sword, for sure, for DJ. When it comes down to sitting out an at-bat or two, whatever it looks like, I'm willing to do that to get him the batting title. Winning a batting title doesn't take one day, the last game of the season. It takes six months."
First baseman Carter has reached career highs in homers (39) and RBIs (92). He needs one homer to become the sixth Brewers player in franchise history to hit 40 or more homers in a season, joining Richie Sexson and Prince Fielder, who each had two such seasons, Gorman Thomas, Ben Oglivie and Ryan Braun.
Brewers third baseman Jonathan Villar, who leads the majors with 60 stolen bases, hit his 19th homer Wednesday. He needs one homer to become the fourth player in history to hit 20 homers and steal 60 bases in a season and first since Hall of Famer Rickey Henderson with Oakland in 1990. The others to reach the 20/60 plateau are Hall of Famer Joe Morgan with Cincinnati in 1973 and 1976 and Cincinnati's Eric Davis in 1986.
The Brewers and Rockies went nearly five months without playing each other before the Brewers swept a three-game series in Milwaukee on Aug. 22-24.
The Brewers just dropped two of three games at Texas, giving them four losses in their past five games. The Rockies are coming off a 1-6 road trip that left them with eight losses in their past 10 games.
Left-hander Brent Suter will start for the Brewers, taking the place of Tyler Jungmann, who suffered a hip injury in his last start. Suter is 2-1 with a 2.16 ERA in 13 games, one start. Since making his major league debut in that start Aug. 19 at Seattle and giving up four runs in 4 1/3 innings, Suter has made 12 consecutive scoreless relief appearances totaling 12 1/3 innings with two walks and 10 strikeouts. Suter is a finesse pitcher with deception in his delivery that helps his mid-80s fastball play up, as does the speed variance he gets with a curveball in the low 70s.
The first of Suter's relief appearances was against the Rockies on Aug. 23, when Suter gave up two hits and a walk but left the bases loaded when Nick Hundley lined to second to conclude a scoreless inning.
He threw 15 pitches in two innings in his last outing Sunday, the first time in five appearances Suter has reached double digits in pitches thrown.
"I'm just looking to give the team a good five-six innings at least and try to keep them in the ballgame, do my best to end the season on a good note and hopefully get us a win," Suter said.
Rockies starter Chad Bettis, who is 13-8 with a 4.92 ERA and leads the team in wins, gave up seven runs, five earned, in 4 2/3 innings Saturday at Los Angeles and was the loser as the Dodgers trampled the Rockies 14-1. It was Bettis' first loss in five starts dating from Aug. 22 at Milwaukee when he gave up four runs, three earned, in five innings and lost 4-2 to the Brewers.
The Rockies are 20-11 in games started by Bettis, who is 6-2 with a 3.86 ERA since the All-Star break in 13 starts, 10 of which the Rockies have won.