Preview: Brewers at Rangers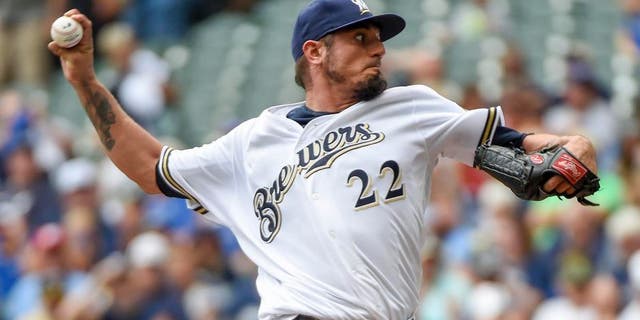 MILWAUKEE -- As he left the home clubhouse at Miller Park for possibly the last time, Milwaukee Brewers left fielder Ryan Braun took a moment to reflect on what his team accomplished this season; the first in a massive rebuilding effort for the franchise.
"To this point, we've played at least as well if not better than anybody expected," Braun said. "We have more wins (70) than we did a year ago (69) and that's after trading away our set-up guy, our closer, our All-Star catcher and our third baseman."
Braun and the Brewers will be reunited with two of those players -- catcher Jonathan Lucroy and right-handed reliever Jeremy Jeffress -- Monday when they open a three-game series against the Texas Rangers at Globe Life Park.
Lucroy has been a key cog for the Rangers, who locked down the AL West championship last week. Bouncing back from an abysmal 2015 campaign, at least by his standards, Lucroy was batting .299 with 13 home runs and 50 RBIs when he and Jeffress were shipped to Texas just before the non-waiver trade deadline.
With the Rangers, Lucroy has kept on hitting, posting a .278 average with 10 homers and 28 RBIs. He's also thrown out 42 of 109 runners attempting to steal this season, the third-best mark in baseball.
But Braun was hardly impressed by that statistic.
"Lots of easy stolen bases this week with Luc," joked Braun, who needs four more stolen bases to hit 20 for the fifth time in his career.
Jokes aside, Braun was happy to watch friends clinch their divisional crown.
"It's great to see them ultimately in a position they want to be in," Braun said. "It's a lot of fun to watch them clinch from afar; I'm just glad it happened before we got there."
Jeffress, meanwhile, has had a rockier transition. He had a 2.22 ERA and 27 saves at the time of the trade but struggled in nine outings with Texas then, in late August, was arrested for a DUI and placed on the restricted list.
Texas reinstated Jeffress over the weekend, but it's still unclear how or if the Rangers will use him down the stretch or during the postseason.
"I just want to move forward from this," Jeffress said. "I'm still a sick man, I'm still working on my treatment. Coming from the program I was just in made me a better person, a wiser person."
The Brewers will also be reacquainted with outfielder Carlos Gomez, who signed with Texas in late August after he was designated for assignment by the Astros.
Milwaukee shipped Gomez to Houston last year in a deadline deal but the lively outfielder struggled en route to the postseason, batting just .242 in 41 games. Things got even worse this season; Gomez was hitting .210 with just five home runs and 29 RBIs when he was released Aug. 19.
Since joining the Rangers, Gomez appears to be back on track. He's hit six homers, driven in 16 runs and has four stolen bases in 27 games.
"I think he's added energy at the top of the lineup for us. He added some on-base and power. The strikeouts (are) still there," manager Jeff Banister said last week. "However, he has calmed the approach down, which is more conducive to leading off an inning. I like the look of what he has provided us from that leadoff spot."
At 92-64, the Rangers begin the day tied with Boston for the best record in the American League. They'll send left-hander Martin Perez to the mound hoping he can extend his streak of four consecutive quality starts.
Perez took a no-decision his last time out, scattering four hits without a walk over seven innings against the Angels.
Milwaukee will counter with right-hander Matt Garza, who spent the second half of the 2013 season with Texas before signing a four-year, $50 million contract with Milwaukee.
He is 0-2 with a 4.20 ERA in his last three starts.