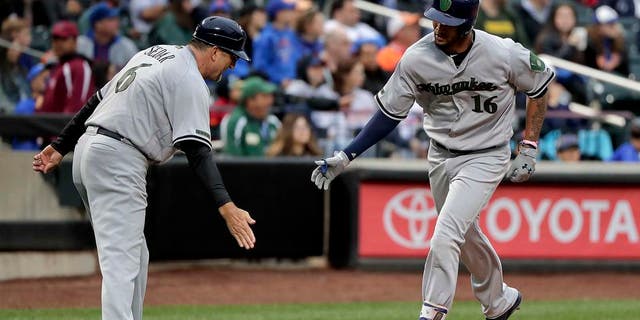 NEWYou can now listen to Fox News articles!
NEW YORK -- Tyler Pill put up a sub-2.00 ERA in the most hitter-friendly league on the planet, so it seems appropriate he will make his first major league start Tuesday night against one of the best offensive teams in the majors.
The Mets will hope Pill can provide some steadiness out of the fifth spot in the rotation when the right-hander takes the mound in the second game of a four-game series against the Milwaukee Brewers at Citi Field. New York won the opener 4-2 on Monday.
Pill (0-1, 13.50 ERA) will oppose Brewers right-hander Zach Davies (5-3, 5.33 ERA).
It will be the second career appearance for Pill, who took the loss in his big league debut on Saturday. He entered in the 10th inning and allowed a run while recording two outs as the Mets fell 5-4 to the Pittsburgh Pirates.
Pill, who turned 27 on Monday, said getting his feet wet on Saturday night should diminish any nerves he will feel on Tuesday.
"It was a pretty intense situation -- a lot going on," Pill said of entering a tied game in extra innings. "Not that it'll be easy, I'm just saying nothing compared to that."
The Brewers, who were limited to just five hits -- including two in the ninth inning -- by a trio of Mets pitchers on Monday, won't be an easy assignment for Pill. The quiet performance was an aberration for Milwaukee (27-24), the sixth-highest-scoring team in the majors.
"We didn't get enough going offensively," Brewers manager Craig Counsell said. "The ninth we got something going, but the other innings were really quiet."
Pill, who produced a 1.96 ERA in six starts for Triple-A Las Vegas in the Pacific Coast League (where the average ERA is 4.66), is looking forward to the challenge.
"It's exciting," Pill said Monday afternoon. "Why not test what you've got against one of the best lineups in the sport?"
It won't take much for Pill to be compared favorably to the other pitchers the Mets (22-27) have employed in place of Noah Syndergaard since the ace right-hander sustained a torn right lat on April 30. Left-hander Tommy Milone and right-hander Rafael Montero have combined to allow a whopping 22 runs in just 18 2/3 innings in five starts this month.
Pill likely will make two starts for the Mets, who will again need a fifth starter on Sunday. New York has two off days in a span of four days next week, after which two injured starters -- right-hander Seth Lugo and left-hander Steven Matz -- are expected to be activated from the disabled list and re-instated to the rotation.
Davies had a seven-start unbeaten streak snapped in his most recent outing last Thursday, when he gave up three runs over six innings as the Brewers fell 4-0 to the Arizona Diamondbacks. He is 2-0 with a 4.41 ERA in three career starts against the Mets.
Davies beat the Mets on May 13 despite allowing four runs on seven hits over five innings of an 11-4 Milwaukee win.