Preview: After day off, Rays return home to host Yankees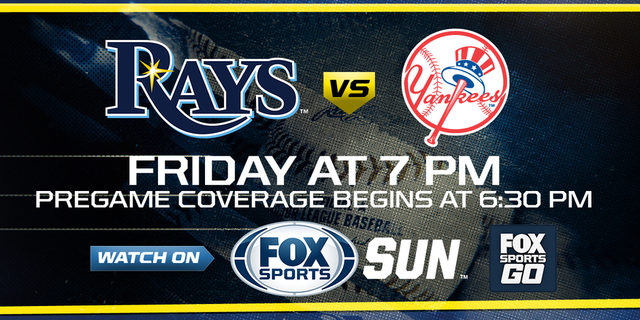 TV: FOX Sports Sun
Time: Pregame coverage begins at 6:30 p.m.
CAN'T GET TO A TV? WATCH IT LIVE ON FOX SPORTS GO
ST. PETERSBURG, Fla. -- The Tampa Bay Rays are home from their first winning road trip in nearly a year, taking four of six games in a week spent at Boston and Cleveland.
Continuing that success -- and potentially inching back above .500 -- won't be easy against a New York Yankees team that has baseball's second-best record at 24-14. What will help Tampa Bay's chances is if it can continue a recent surge -- the Rays (21-22) hit 10 home runs in Cleveland, setting a franchise record for a three-game series.
Designated hitter Corey Dickerson had three home runs in the last two games, giving him nine for the season and a legitimate case to be an All-Star as a power-hitting leadoff man.
"He's doing everything offensively," Tampa Bay manager Kevin Cash said after Dickerson belted a three-run home run in Wednesday's win. "He's not your typical leadoff hitter, with that kind of power, but he's doing a good job of igniting our offense."
Thursday afforded the Rays a rare day off -- they had played games on 20 straight days and won't have another day off until June 1 after 13 straight games.
Tampa Bay faces the Yankees with reliever Erasmo Ramirez making his second stint as a fill-in starter. He stepped in twice while Jake Odorizzi was injured, and now takes over for Blake Snell, who was sent to the minors after he was winless in his first eight starts.
Ramirez (2-0, 2.92 ERA) only threw 28 pitches in his last outing on Sunday, but it was an impressive two innings of no-hit ball with four strikeouts against Boston. The Rays are 2-4 against the Yankees this season, taking two of three to open the season in St. Petersburg before getting swept a week later at Yankee Stadium.
New York, which suffered a 5-1 loss to the Kansas City Royals on Thursday night, counters with right-hander Luis Severino (2-2, 3.86 ERA), who faced the Rays in April and pitched well, striking out 11 in seven innings and holding Tampa Bay to two runs on five hits.
The Yankees have received a power surge from phenom Aaron Judge, who is tied for the major league lead with 14 home runs. New York had scored at least seven runs in four straight before Thursday's quiet night at the plate.
"It's going to happen -- you're going to run into guys that have good stuff and are on certain nights," Yankees manager Joe Girardi said after the game. "It's going to be tough to put up a lot against them. We had a couple of chances and we weren't able to get hits in those chances."
The Rays have found their power stroke at the plate, but they'll face the Yankees without a key bat in second baseman Brad Miller, who went on the disabled list Thursday with an abdominal strain.
Miller was hitting only .205, but leads the American League with 30 walks to help his on-base percentage. He'll be replaced by rookie Daniel Robertson, who is hitting .183 but has three home runs.