Preston Williams to play week one, two other WRs out for Tennessee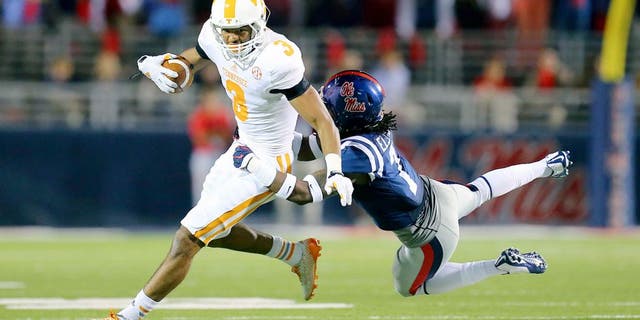 NEWYou can now listen to Fox News articles!
The news from Butch Jones Monday felt a little like the good, the bad and the ugly, as status updates were all over the place for the Volunteers' receiving corp in the first game week press conference of the season.
The good - stud recruit Preston Williams should play, despite missing fall camp and coming of an ACL tear.
"I fully anticipate Preston Williams playing in the game," Jones said. "He is an individual who came in over the weekend and really worked on his conditioning. Now, to what extent of a role will he have in the game? That will be determined and dictated by his week of practice, but I fully anticipate him playing in the game on Saturday."
The bad - Jason Croom had another surgery to help repair an injury dating back to last season and will miss the beginning of the season.
"Jason Croom, his surgery went very well," Jones said. "There's no timeframe. It could be three weeks, it could be up to five weeks. Just kind of [depends on] how his body heals. Both surgeries went very well."
And the ugly - freshman Vincent Perry, who had been shining in fall camp, has been lost for the season.
"Vincent Perry will be out for the season," Jones said. "That's a season-ending injury, and the surgery went very, very well. Now, it's him really focusing on being a student-athlete, studies, [and] getting stronger in the weight room."
The losses shouldn't deter the Vols passing game much, as the receiving corp is among the deepest and most talented in the SEC this season. The news of Williams playing week one may have been the biggest shocker of the day but for a player compared to Randy Moss, he may have only just begun to pleasantly surprise Vol Nation.