Pressure on Dale Jr., Kenseth, Kyle Busch heading into Kansas race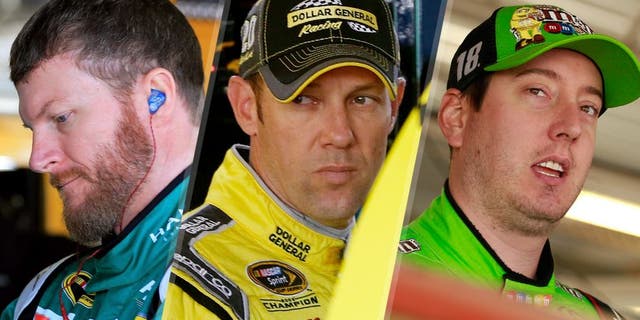 NEWYou can now listen to Fox News articles!
Sunday's Hollywood Casino 400 at Kansas Speedway isn't an elimination race in the Chase for the NASCAR Sprint Cup.
But for three drivers, it certainly has that kind of feel. That's because the pressure they're facing couldn't be much more intense.
After disappointing results in last weekend's Contender Round opener at Charlotte Motor Speedway, Matt Kenseth, Dale Earnhardt Jr. and Kyle Busch all need at least a solid showing on Sunday to have any chance of making the next round on the basis of points.
Sure, there's still next weekend's elimination race at Talladega from which the winner will earn an automatic berth in the Eliminator Round, but no one wants to go to 'Dega, of all places, in a must-win situation.
It's quite possible -- given Talladega's propensity for producing massive multi-car wrecks -- that Kenseth, Earnhardt and Busch may not even be running at the checkered flag.
Thus, Sunday's race in Kansas takes on added significance for the three men bringing up the rear of the Chase standings.
And you can believe, they're all feeling the heat to at least go out and deliver a strong finish, even if they can't get a win that would guarantee entry into the next round.

"We ain't got nothing to lose," said Earnhardt, who is 11th among the 12 title contenders and sits 19 points in arrears of eighth-place Brad Keselowski, currently the last driver in position to transfer. "We just got out there and run hard and try to win races and try to run up front. We are not close enough to the top eight to sort of have a strategy. We are just going to go out there and race and see how it works out for us and try to win. We have two opportunities and we are a good enough team, so we will see how that works out."
Earnhardt qualified 15th at Kansas, last among the Chase drivers, but it's Kenseth who has a much taller hill to climb, after a 42nd-place finish at Charlotte. Last among the Chase drivers and a whopping 32 points behind bubble man Keselowski, the Joe Gibbs Racing driver at the very least needs to knock a significance chunk off his deficit to have any chance of advancing -- assuming he doesn't win at Talladega next weekend.
Long known as a driver who doesn't get easily rattled, Kenseth -- at least outwardly -- is projecting a calmness despite facing the very real possibility of elimination next weekend.
A winner of a series-high five races in 2015, the veteran driver seems to find comfort in knowing that the bad luck he faced at Charlotte could find someone else at Kansas, Talladega or both. And that, at least in theory, would give the 2003 Sprint Cup champion a better chance of advancing.

"If it happened to us in one race; it can happen to anybody in this race or the next race," said Kenseth, who rolls off 11th on Sunday. "I really haven't thought about it a lot. I got through last weekend and went through and worked on closing Charlotte down on Monday and kind of went through all our notes on what went wrong and what went right, what we did good and what we need to do better. Just all the normal stuff."
Busch, meanwhile, is only 10 points off the bubble spot -- a much better position to be in than that of Earnhardt and Kenseth. However, unlike Kenseth and Earnhardt, who traditionally run well at Kansas, the 1.5-mile track has been downright unkind to Busch -- at least on the Sprint Cup side.
Aside from having nary a win at Kansas, the Joe Gibbs Racing driver has finished in the top five here just once in 15 starts. Though the record is dismal, Busch gleans some hope from winning Saturday's XFINITY Series race here and the fact that the last time he drove a Sprint Cup car at Kansas -- one year ago -- he finished a career-best third.
"To win here in the XFINITY Series, it does bode your confidence a little bit, it gives you a little bit of good feeling for going into tomorrow's race," Busch, who starts third on Sunday, said after Saturday's XFINITY win. "Our Cup car was really not very good all day today and we kind of struggled with it and we've got our work cut out for us tomorrow, but I'm sure the things I talked with Adam (Stevens, Cup crew chief) after practice and stuff, hopefully he can fix those things. If he fixes my problems, then I think we'll have a decent day."