Pressure? Kevin Harvick long ago proved he could handle it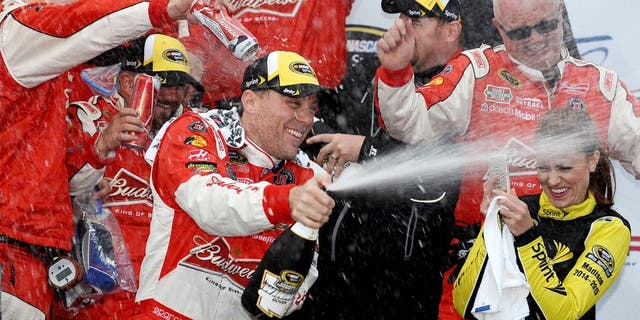 NEWYou can now listen to Fox News articles!
Kevin Harvick knows a thing or two about real pressure. And what he felt at Dover International Speedway Sunday afternoon wasn't pressure, although it did carry high stakes.
Harvick, the defending NASCAR Sprint Cup Series champion, had to win the AAA 400 at Dover to keep his hopes of a second straight title alive, and he did so with ease, leading 355 of 400 laps to win for the third time this year and score his 13th top-two finish of the season.
In his post-race press conference, Harvick was asked about the stress of having to win or be eliminated from title contention.
When he insisted he didn't feel any pressure today, he was then asked what he considered to be a high-pressure situation.
"Probably stepping into Dale Earnhardt's car," said Harvick. "That was pretty high."
Five days after Earnhardt's death on the last lap of the 2001 Daytona 500, Harvick was a green 25-year-old racer thrust into the role of the successor to NASCAR's greatest star, and given Earnhardt's crew and his race cars, which got new numbers and paint schemes.
One week after Earnhardt's death, Harvick made his first Sprint Cup start for Richard Childress Racing, driving the No. 29 GM Goodwrench Chevrolet to a 14th-place finish at Rockingham, N.C.
Two weeks later, Harvick edged Jeff Gordon at the line to win his first NASCAR Sprint Cup Series race at Atlanta Motor Speedway in one of the sport's most emotional triumphs of all-time.
Compared to all of that, 400 miles at Dover was a walk in the park.
"There will never be anything close to that one," Harvick said of replacing Earnhardt. "I think that that'll supersede any of these situations by a long ways. When you look at the sport's biggest hero gone, you look at millions of race fans that are depending upon somebody to drive that car and you have 350 people that have jobs and families and you're their guy, never done it before, but good luck. Know what I mean? That's a lot of pressure."
Not so anymore. Now, for Harvick and the SHR squad, it's simply get the job done.
Race teams feed off the emotions of their drivers, and if Harvick says it's business as usual, well, that's how the team treats it.
"It's just the nature of this team and what they do, and the character of it is deep, and they all believe in each other," said Harvick. "When you have a group of people like this that doesn't do things out of the ordinary for situations like this, you know, they just look at it as another task at hand."
As part of that, Harvick has tried to stay calm even when there were races the team should have won but for one reason or another didn't.
"If you're going to get frustrated over running like we've run this year, you're probably going to be a detriment to your team, and for us it's something to where you show up on Monday and you do the same thing, whether you win or lose," Harvick said.
Harvick's crew chief, Rodney Childers, agreed.
"It is all about people. It's all about attitude. It's all about confidence," Childers said. "Our group is good at that. They never waver. They do a great job each and every day. They come into the shop with a smile on their face, and they just make it happen."
And as far as pressure goes, the pressure has shifted, at least for now.
Because after Harvick's blowout victory, the pressure being felt is by the other 11 teams still in the Chase who are all wondering how they are going to stop the No. 4 over the final seven races of the year.