Pregnant former Olympian collapses and dies in Connecticut, doctors save baby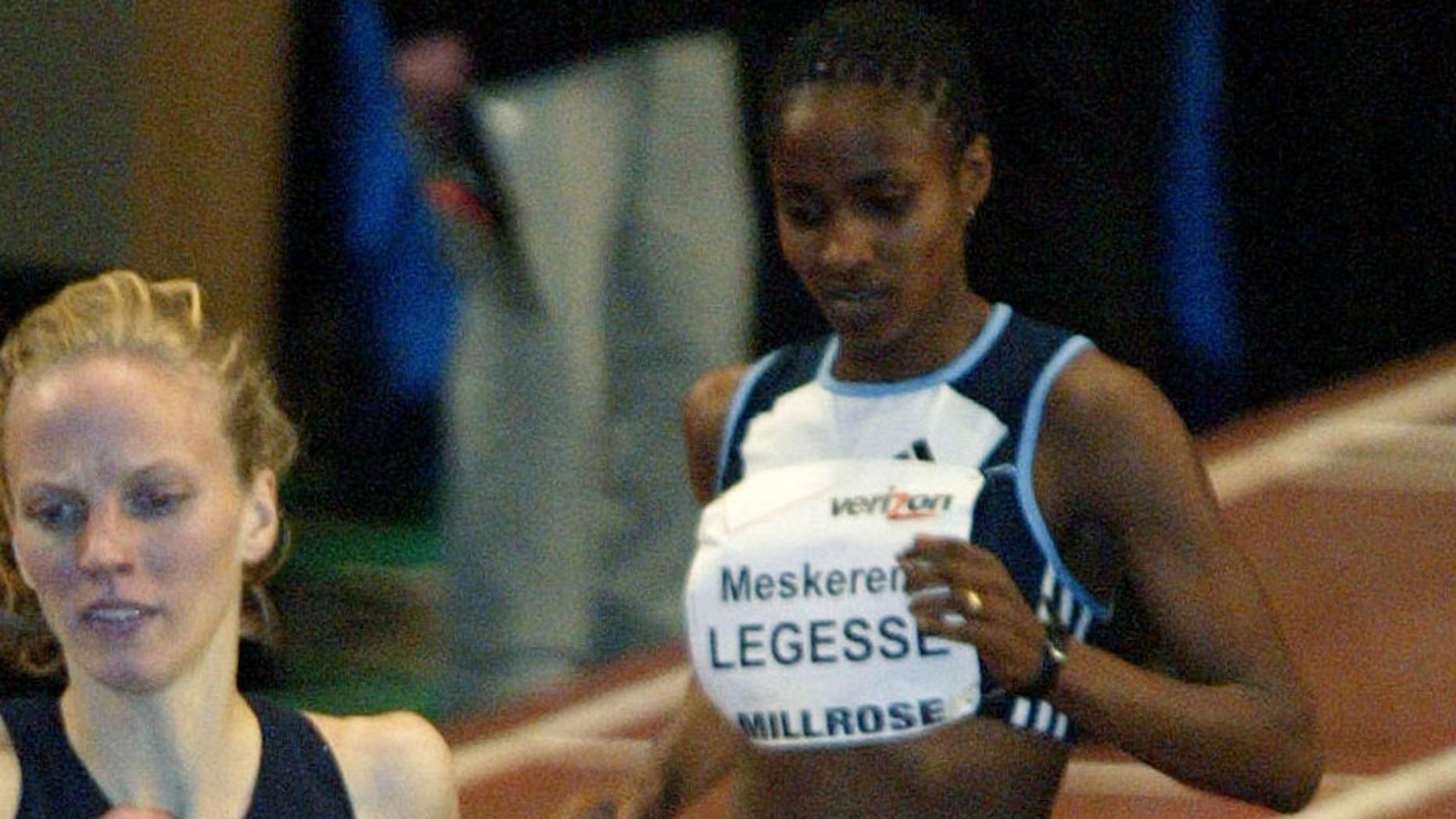 HARTFORD, Conn. – A former Olympic and professional runner from Ethiopia who was eight months pregnant died after collapsing at a Connecticut restaurant, but doctors were able to save her baby, her friends said Wednesday.
Meskerem Legesse, 26, who lived in Westport, Conn., was with her 2-year-old son when she collapsed at a Chinese restaurant in Hamden on Monday, said her friend, Fatima Sene. She was transported to a hospital where she died and the baby was saved, Sene said.
The cause of death wasn't clear. Sene said Legesse had suffered heart problems in the past.
"It is very sad. She was a very good person," Sene said. "She would do anything for anybody. And she loved that little boy she left behind."
Legesse leaves her husband Tom Laverty and a 2-year-old son, CTNow.com reported. She was reportedly due to deliver her second child in three weeks.
Legesse ran in the 1,500 meter competition at the Athens Olympics in 2004. She finished 12th in a first-round heat with a time of 4:18:03 and didn't advance to the medal race. She moved on to a professional running career in the U.S., competing in events including the Boston Indoor Games, Fifth Avenue Mile in Manhattan and the Millrose Games in New York. She apparently hadn't raced within the past few years.
Legesse's children are now with their father, and arrangements are being made to bring Legesse's body to Ethiopia, Sene said. Legesse was planning to get married to the children's father, she said.
Legesse's death was first reported by Hartford-area CBS affiliate WFSB-TV, which obtained surveillance video from the restaurant showing Legesse entering with her son, sitting down in a chair and collapsing to the floor within seconds. Legesse had ordered takeout and was picking it up, said Sene's sister, Fatima Cisse, another friend of Legesse.
Legesse knew the two sisters from a hair salon down the street from the Chinese restaurant, they said.
Hamden firefighters and paramedics with American Medical Response were called to the restaurant at about 2 p.m. Monday and performed CPR on a pregnant woman who collapsed, according to fire and police officials who did not release the woman's name.
Doctors at Yale-New Haven Hospital were able to save the baby because of the CPR efforts both in the restaurant and in the ambulance on the way to the hospital, Hamden Fire Chief David Berardesca said.
Bill Staab, the president of the New York City-based West Side Runners club, told CTNow.com that Legesse was "quite beloved" in the local running community.
"She was charming, a very attractive woman and a good mother. It's a tremendous loss to the Ethiopian running community in the New York area."
Kassahun Kabiso, an Ethiopian runner who lives in the New York City area told CTPost.com he knew Legesse and was taken aback upon learning of her sudden death.
"She was a good person and a good athlete. That's why we're confused," Kabiso told the newspaper.
A spokeswoman for the state medical examiner's office said the agency declined to perform an autopsy, citing Legesse's past health problems. She declined to elaborate.
A Yale-New Haven Hospital spokesman on Wednesday said he had no information about Legesse being brought there Monday.
The Associated Press contributed to this report.
Click here for more from CTNow.com.