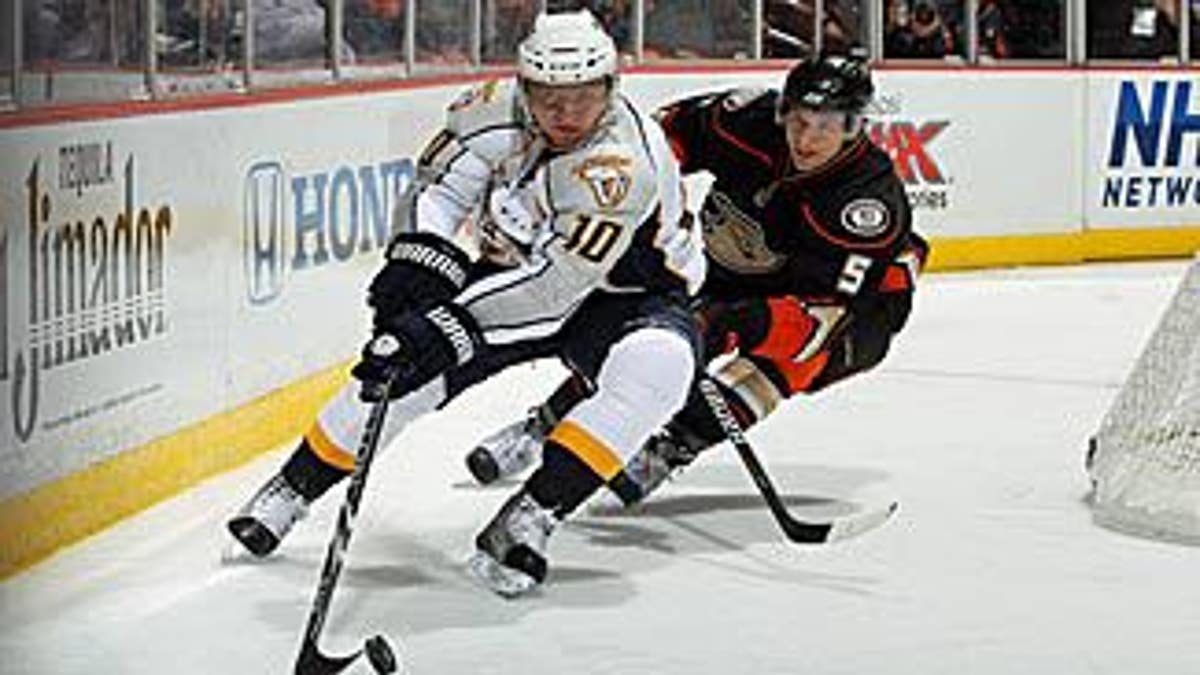 NASHVILLE, Tenn. -- Predators forward Martin Erat, who tied for the team lead in points during the regular season with 50, did not practice on Thursday and will not travel to Anaheim for Game 5 on Friday.
This came one day after Erat was on the receiving end of a high hit from Ducks forward Jarkko Ruutu in Game 4 of the teams' Western Conference quarterfinal series.
The hit came about four minutes into the second period and Erat was taken off the ice to Nashville's locker room and did not return. The Predators said Erat's injury was an "upper body" injury.
Nashville coach Barry Trotz was asked how Nashville would replace Erat.
"It's just like Bobby Ryan," Trotz said after practice on Thursday, a reference to the Ducks' 34-goal scorer who was suspended for Games 3 and 4 for a kicking incident. "You can't replace Marty Erat in our lineup. Everybody's going to have to step up and fill the void."
Ruutu received an interference penalty on the play. A report by Canada's Rogers Sportsnet indicated that Ruutu had a hearing scheduled with the League on Thursday afternoon to determine supplementary discipline.
Possibilities to take Erat's spot in the lineup if he cannot play are Colin Wilson, who played all 82 regular season games but has yet to play in the playoffs, and veteran J-P Dumont. Wilson had 16 goals and 18 assists during the regular season. Dumont, 33, had 10 goals and 9 assists, playing in only 71 games, as he was often a healthy scratch later in the year. But he has plenty of playoff experience, including 6 goals and 6 assists in 17 playoff games with Nashville. He also had a playoff hat trick while playing for Buffalo against Philadelphia in 2006.
Ducks coach Randy Carlyle said that after reviewing video of the hit, he thought the hit was neither a penalty nor dirty.
"You never know with what's going on," Carlyle said on Wednesday night as to whether Ruutu might be suspended for the hit. "We reviewed it. I didn't see any direct blow to the head. It was shoulder-on shoulder. I don't even really think there should've been a penalty called because we timed it at 16:04 (remaining in the period). Erat moved the puck and at 16:03 he was laying on the ice. So there wasn't a second, it wasn't a late hit. He just took the body. It was shoulder-on-shoulder. And I don't know what you guys saw. I didn't see a shoulder driven to the head or anything."