Practice results for Monster Energy All-Star Race at Charlotte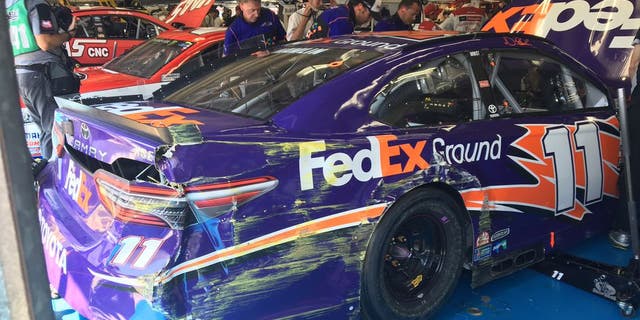 CONCORD, N.C. -- With the Monster Energy All-Star Race set for Saturday night (6 p.m. ET, FS1) the 16 drivers already locked into the field got 90 minutes of afternoon practice under blazing hot skies at Charlotte Motor Speedway.
And when the dust settled, series points leader Kyle Larson was atop the speed charts, turning a best lap of 189.274 miles per hour in the No. 42 Chip Ganassi Racing Chevrolet
Second-fast was Kevin Harvick, who wheeled his Stewart-Haas Racing Ford to a fast lap of 189.095 mph. Brad Keselowski, Kyle Busch and Martin Truex Jr. completed the top five.
Given that the All-Star Race will be run at night, how the cars practiced today under 90-plus degree temperatures might not equate to how fast they are tomorrow night.
Still, it was an eventful session.
Larson and Kyle Busch both spun and kept their cars off the wall, but Denny Hamlin wasnt so lucky. Hamlin came out of the pits and on his first lap hit the wall, forcing his Joe Gibbs Racing team to bring out a backup car.
Asked what happened, Hamlin said he was baffled.
I have no idea. It was so weird, Hamlin said. It didnt feel right. It didnt feel right at all.
There is much more on-track activity to come today.
At 3 p.m., there will be a practice for the 24 cars entered in the Monster Open last-chance race, from which four drivers will transfer to the all-star race.
Then, the first round of all-star qualifying takes place at 6:05 p.m., with the five fastest qualifiers advancing to a second and final round of qualifying at about 7:30 p.m. That will set the starting order for the top 16 cars in the all-star race.
All remaining on-track activity today will be televised on FS1, including the NC Education Lottery 200 NASCAR Camping World Truck Series race, which is scheduled for 8:30 p.m.
For complete results of Friday's All-Star practice, see below.