Pouncey on Incognito: 'I miss him. I wish we can still have him here'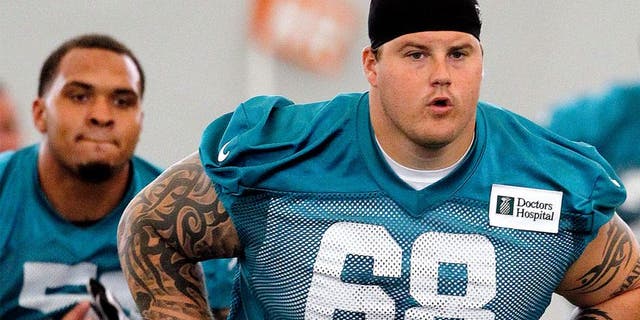 NEWYou can now listen to Fox News articles!
Things didn't end well for Richie Incognito and the Miami Dolphins after the Bullygate happenings. The Dolphins lost a starter along their depleted offensive line, and Incognito was out of a job for a year.
More than a year removed from the bullying issue, Incognito has been named the Buffalo Bills' starting left guard and the Dolphins are still searching for his replacement. And while Incognito took a lot of heat from fans and players, one of his former teammates wishes he was still with the team.
"When I came in as a rookie he took me underneath his wing," Dolphins center Mike Pouncey said on the Joe Rose Show. "Kind of learned the game from him and how to be a professional.
"That guy does it the right way. He goes out and plays football as physical as he can. He's a tough guy. I miss him. I hope he does really well this year."
Pouncey may not have the chance to play alongside Incognito this season, but he'll get to see him when the Bills and Dolphins square off twice this season.
"He's a baller, man," Pouncey said. "He's a guy who's gonna bring it every single play. I wish we can still have him here."
Since Incognito's departure, the Dolphins have had a hard time replacing him. Dallas Thomas and Billy Turner are the front runners for the two starting guard spots, but the potential signing of veteran Evan Mathis could change that at any moment.
(h/t CBS Miami)