Potential Wolves draft pick profile: Trade the pick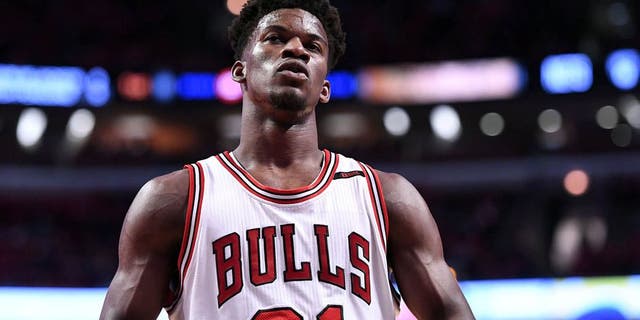 NEWYou can now listen to Fox News articles!
Leading up to the NBA Draft, FOX Sports North will take a look at some options for the Minnesota Timberwolves with the No. 7 overall pick. We conclude the series with the possibility the Wolves might not even have the pick.
Previously: Jonathan Isaac | Malik Monk | Lauri Markkanen | Dennis Smith Jr. | Jayson Tatum
A lottery pick, playoff potential, mounting frustration and Tom Thibodeau running the show?
Looks like the Minnesota Timberwolves are primed to make a move at the NBA Draft.
Their needs -- defense, defense and defense -- are not easily solved by the players likely to be available once the No. 7 pick rolls around, while Thibodeau, who has missed the playoffs just once in six seasons as a head coach, doesn't seem particularly patient after watching his team struggle to a 31-51 season.
But who could they target?
It's probably a pretty short list, but if such a deal is going to happen we've got a hunch that it's a player Wolves fans are already familiar with.
Minnesota is reportedly courting former Thibodeau disciple Derrick Rose, who heads into free agency after nearly joining the Wolves at the trade deadline.
It's not the first time that Thibodeau's Wolves have been linked to one of his former players.
See where we're going with this?
A Jimmy Butler trade was the talk of last year's draft, as the Wolves reportedly sparred with the Chicago Bulls over a deal that centered around No. 5 pick Kris Dunn.
That's where we're going.
In the spirit of examining all of the Wolves' options -- let's break this one down, using one of Wolves fans' favorite targets as our test case.
With a team-friendly contract, the defensive acumen to solve one of the Wolves' biggest issues, and an offensive skillset that nearly dragged the hapless Bulls to the playoffs last year, he'd be a game-changing get (although it would likely take more than the No. 7 overall pick to get Butler . Much more).
Will it happen?
*Shrugs*
We're breaking Butler down anyway.
FRAME: 6-foot-7, 231 pounds
POSITION: Forward
EXPERIENCE: 27 years old, 5 years in NBA
CAREER AVERAGES: 32.3 minutes, 15.6 points, 4.8 rebounds, 3.1 assists, 1.5 steals, 0.5 blocks, 44.8 FG%, 33.7 3PT%, 82.8 FT%
2016-17 AVERAGES: 37.0 minutes, 23.9 points, 6.2 rebounds, 5.5 assists, 1.5 steals, 0.4 blocks, 45.5 FG%, 36.7 3PT%, 86.5 FT%
TROPHY CASE: 3-time All-Star, 2014-15 Most Improved Player
TALE OF THE TAPE: A two-year starter at Marquette after transferring from Tyler Junior College, Butler averaged 15.7 points, 6.1 rebounds and 2.3 assists per game as a senior Joined the Bulls as the No. 30 overall pick in the 2011 draft and appeared in 42 games as a rookie Appeared in 82 games for the first time during his sophomore season then averaged 13.3 points per game in the playoffs Has appeared in the last three NBA All-Star games.
GET TO KNOW HIM: A bona fide superstar, Butler has averaged 21.7 points per game over the last three seasons and has the league's third-best offensive rating among active players at 118.2. A member of the All-Defensive second team in each of the last three seasons, Butler made a name for himself early in his career for his outstanding defense, making him particularly valuable to the defensively deficient Wolves.
WHY IT WORKS: Butler emerged as a two-way star under Thibodeau, and could thrive under him once again in Minnesota. An outspoken critic of his own team, Butler called the Bulls "lazy" and "soft" after Chicago lost a game in mid-March as it was chasing the final playoff spot. Could a Thibodeau reunion help energize the young star? Butler is also on a decidedly team-friendly contract that would help the Wolves as they look to re-up their young core over the next few years.
WHY IT DOESN'T: Will the Bulls deal with Thibodeau, whose firing following the 2014-15 season was announced via a subtly nasty press release? If a major piece like Andrew Wiggins or Zach LaVine is involved it's hard to imagine that Chicago wouldn't entertain the possibility, but their history with Thibodeau could make a deal for their best player a nonstarter. And would the Wolves want to even deal one of their young, emerging stars?
FILM ROOM: Check out Butler's best plays of the 2016-17 season below.
Here's a sampling of Butler's defensive prowess, as he take on LeBron James in a Bulls win over the Cleveland Cavaliers.