Post-race inspection failures by race-winning cars a concern for NASCAR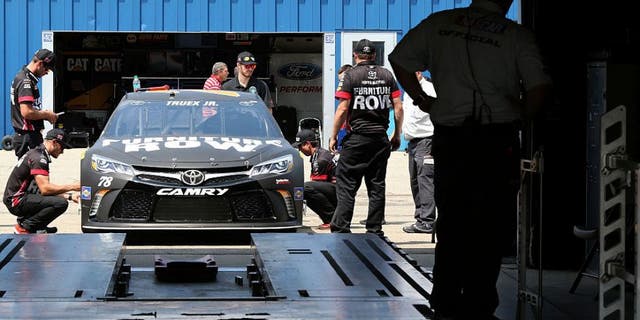 Lately, the post-race buzz after NASCAR Sprint Cup Series races isn't about who won, it's about who flunked post-race technical inspection.
For those of you keeping track at home, Sunday at Chicagoland Speedway, the cars of race-winner Martin Truex Jr. and Jimmie Johnson both flunked NASCAR's Laser Inspection Station twice, but only by what a NASCAR spokesman called "the lowest possible level."
Kyle Busch's car flunked post-race LIS once, but passed the second time.
Greg Biffle's car was missing a lug nut, while Aric Almirola's car had a stud come off one of his wheels.
At Richmond a week earlier, Truex's car failed to pass post-race LIS.
Two weeks ago, after the Darlington race, the cars of Ryan Newman and Kyle Larson flunked LIS, too.
Next Sunday, the NASCAR Sprint Cup Series will race at New Hampshire, where in July Matt Kenseth won the race only to flunk LIS.
Seeing a trend here?
At a time when NASCAR should be talking about the close and exciting racing and the battle for the championship, instead the water cooler conversations center around inspection and cheating. And that's not good.
Last week, NASCAR released a complicated rules revision that said drivers who win but fail inspection might lose the right to automatically advance to the next round of the Chase. The win would become "encumbered" – it would still show up in the record book, but wouldn't move the driver up in the Chase.
But that isn't what happened at Chicagoland, because per NASCAR, Truex's car flunked at "the lowest possible level."
So he'll likely get a 10-point penalty, which means nothing because he's now locked into the second round of the Chase.
Huh?
I got a number of tweets Sunday from fans who didn't understand what all this means. And I can't blame them. It is confusing.
To some, being off by 0.030ths of an inch in inspection is tantamount to the same kind of cheating as running a 25-gallon fuel cell or pumping nitrous oxide into your engines.
It's not, of course -- not even close -- but that's hard to make people understand sometimes. Hard-line fans believe that being off by that 0.030ths of an inch is cheating, period. It's like there's no such thing as being a little pregnant. You either are or you aren't.
And nothing ticks off NASCAR fans more than a race-winning car flunking inspection. It sets off all sorts of conspiracy theories among the fan base.
Now just imagine the outrage if a driver wins the championship at Homestead and flunks post-race tech inspection. It would be a public relations nightmare of epic proportions.
So how does the problem get fixed?
That's up to NASCAR to decide. When the credibility of the sport has been at stake in the past -- Richmond in 2013 comes to mind -- the sanctioning body has acted swiftly and forcefully. Let's hope they do it again now and sooner rather than later.