Posey comeback takes first spring steps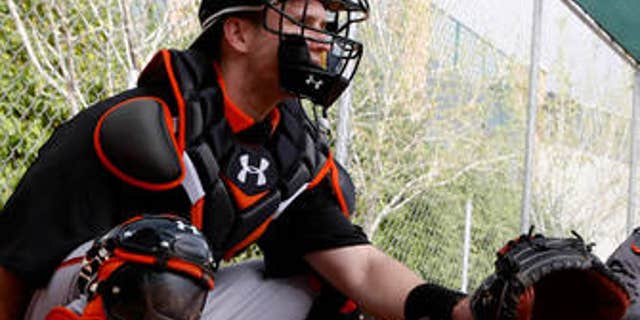 SCOTTSDALE, Ariz. – Just before 11:30 a.m. Sunday, Buster Posey stepped into the batter's box at Scottsdale Stadium.
On the first pitch, he bunted.
"GREAT FORM!" a fan hollered from the box seats.
The moment was eight months and 25 days in the making, following the fateful home plate collision, the devastating news of an ankle shattered and season lost, the hundreds of hours of rehabilitation, and then the simple act of walking onto the field.
Normally, bunting drills are not cause for celebration. This was different. A hundred fans, maybe more, were in attendance. Many of them came for in-the-flesh confirmation of what they had heard through tweets and news reports: No. 28 was back.
After a few of the most scrutinized bunts in spring training history, Posey set the bat over his shoulder and started swinging. The crowd yelped as he took his first cut. Posey struck the ball squarely, and it bounded toward the right side of the infield.
It would have been a routine 4-3 groundout. Do you think they cared?
"YEEEEEAAAAAAH!"
"HERE WE GO, BUSTER!"
So you can imagine the reaction when, several pitches later, Posey cranked a batting-practice meatball from bench coach Ron Wotus onto the left-field berm. The trajectory recalled Posey's division-clinching home run at AT&T Park on the final day of the 2010 season -- a defining moment of his Rookie of the Year season, when he belted 18 homers while hitting .305 and helping lead the Giants to their first World Series title since 1954.
In that sense, Sunday was more than the Giants' first day of spring training. It was a revival of the promise they had two autumns ago, with their young franchise player and dominant pitching staff. A healthy Posey means a do-over in the Giants' failed title defense -- only this time, the Showtime cameras aren't around.
Posey, who turns 25 next month, isn't game-ready yet. As a precaution, he's scheduled to catch only bullpen sessions every other day. (Sunday was on, Monday off.) But there's a growing belief within the organization that he will be in the lineup during the first week of Cactus League games next month. As long as he continues improving at this rate, Opening Day in April is a veritable lock.
"It was special for me," Posey said of Sunday's workout. "I've put in a lot of work to get to this point. This was another step. There's still some work to do. But I was very happy with today."
After Posey went through a full battery of catching drills and batting practice, Giants manager Bruce Bochy pronounced his star "pretty much good to go." General manager Brian Sabean said Posey is "way ahead of schedule" but would remain on a conservative timetable this spring.
Really, the biggest news on Day 1 was how seamlessly Posey fell back into his routine. When I asked Posey if "normal" was a word he would apply to the workout, he replied, "Yeah, I think so. I feel good."
That's not to say the Giants have forgotten about the events of last May 25, when the Marlins' Scott Cousins veered off the third base line and plowed into the vulnerable Posey. Cousins scored the winning run. Posey was decidedly less fortunate, suffering torn ankle ligaments and a broken bone in his left leg.
Cousins apologized publicly following the incident, but Posey said Sunday that the two never spoke directly. (Posey doesn't believe it's necessary.) When asked if he accepts that Cousins is truly sorry for what happened, Posey replied, "Do I accept it? Sure, I do."
Bochy, a former catcher, reiterated Sunday that he believes baseball should enact rule changes to protect catchers on plays at the plate -- similar in spirit to the fair-catch ruling on punts in football. So far, that hasn't happened. But Bochy has made a declaration of his own in a one-on-one conversation with his catcher: Posey is on orders not to block the plate.
"I want to make it clear: I wasn't blocking the plate to begin with," Posey said, echoing an argument that Giants fans (and the videotape) have made since May. "That's the dicey part, I guess, figuring where you've got to be to avoid that. But I have to be instinctual. That's how I play the game. I try to play off instincts. Some of those instincts come from preparation. That's where we're going to put in a lot of work this spring."
Posey also is slated to work at first base during spring training and the regular season. In fact, it won't be a surprise if Posey is playing half his games (or more) at first base within a few years. Bochy volunteered (not so subtly) that the organization has the best catching depth he's "ever seen," making special mention of prospects Hector Sanchez, Tommy Joseph and Andrew Susac.
"There's going to come a point where we will seriously discuss whether it's the right thing to make a move," Bochy said of Posey. "Right now, he's our catcher."
So, on Sunday, he did what catchers do: He strapped on a pair of shin guards and squatted through bullpen sessions for co-aces Tim Lincecum and Matt Cain. Every few pitches, he nodded his head approvingly or barked out affirmation. Nice! Attaboy! Really good!
Only once did Lincecum bury a changeup in the dirt. It skidded beneath Posey and clanged against the backstop. No one seemed to care. The face of the franchise was back, protected by the iron of a catcher's mask. For one day, at least, that was more than enough.