Portland's Nurkic out Game 2, Warriors' Durant questionable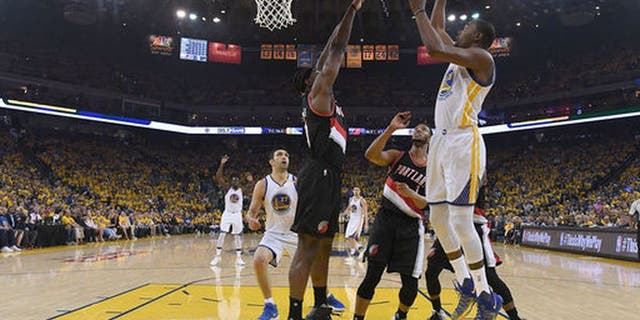 NEWYou can now listen to Fox News articles!
OAKLAND, Calif. (AP) The Golden State Warriors figured out how to win during a long stretch without Kevin Durant once. Now they might have to do so again on the playoff stage.
Durant missed Golden State's practice Tuesday because of a strained left calf and was listed as questionable for Wednesday's Game 2 against Portland, which will be playing without injured center Jusuf Nurkic.
"Obviously you want to have everybody healthy, and we'll see how it goes tomorrow, but we've been in this situation very recently so understand next man up and the way that we need to play when certain guys are out," Stephen Curry said. "It all starts obviously defensively. Based on our Game 1 we need to pick it up on that end anyway so it should be a good challenge. … If that's the case, I know those guys want to play, tomorrow we'll be ready for whatever lineups we throw out there."
The Warriors, who won Game 1 on Sunday, also listed Shaun Livingston as questionable with a sprained right index finger and bruised hand, while forward Matt Barnes is questionable with a sprained right ankle and foot.
Coach Steve Kerr said Durant's injury happened in the game, when he had 32 points and 10 rebounds in his playoff debut with the Warriors. Durant received treatment Tuesday after the team took Monday off from formal workouts.
Kerr didn't hear about the injury until after the 121-109 win. He expects Durant to return sometime during the best-of-seven first-round series, if not Wednesday against the Trail Blazers.
"I'm not sure if he felt it at the end of the game or if he felt it after," Kerr said. "That's totally the expectation but you've got to be careful with this stuff, too. So we'll see how he feels tomorrow."
Durant recently missed 19 games with a left knee injury before returning for the final three regular-season games.
When asked after the game about an athletic trainer checking him in the third quarter and whether anything was wrong, Durant said, "No, I'm cool."
Curry understands the frustration. He sprained the MCL in his right knee slipping on a wet spot during Game 4 of the first round last year at Houston and missed the first three games against the Blazers in the Western Conference semifinals before coming off the bench in the fourth.
"Anybody who's going through that, you feel bad because everybody wants to play, especially this time of year when it matters the most," Curry said. "There's no kind of sugarcoating that at all."
Livingston jammed his hand while diving on the floor, Kerr said. Barnes did more work in practice Tuesday, and "he probably needs a little more work but there's a chance he could play," the coach said.
The 7-foot Nurkic spoke before Portland's practice in San Francisco, saying he's not yet ready to return following a nondisplaced fracture in his right leg that sidelined him the final seven regular-season games.
Blazers coach Terry Stotts didn't want to guess when Nurkic might be back, noting it's still too early to tell.
"I'm not 100 percent. I'm close, but I'm not going to play the second game," Nurkic said. "Right now definitely I want to play. There's no question because I'd do everything for this. I came here, I wanted to be in the playoffs and we make it. I think the team is right I need to be watching out for the future. And right now Game 2 I'm not ready."
--
More AP NBA: apnews.com/tag/NBAbasketball