Portland Trail Blazers' Mason Plumlee headed to Team USA's minicamp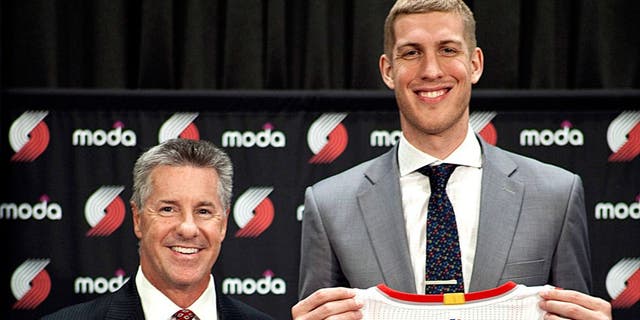 Portland Trail Blazers center Mason Plumlee is a solid rotation player on a rookie-scale contract. He'll never make an All-Star team, and may not even be good enough to start on a contender.
But he played for Team USA at the FIBA World Cup last summer, and USA Basketball recently announced that he's headed to their minicamp in Las Vegas later this week. Here's more, courtesy of The Oregonian:
"So Plumlee, 25, will be the Blazers' lone representative. Last summer, Plumlee unexpectedly earned a spot on USA's 12-man team that won the gold medal at the FIBA World Cup in Spain. The Blazers acquired the athletic, high-flying player during the June NBA Draft, along with the draft rights to rookie guard Pat Connaughton, in a trade with the Brooklyn Nets. An All-Rookie First Team selection in 2014, Plumlee has averaged 8.1 points and 5.4 rebounds in two NBA seasons, but he is expected to carve out a larger role this season, perhaps as the Blazers' starting center."
Plumlee won't play in the Olympics, but it's still a good look for him to show up and compete amongst the best players in the world. It won't make him a dominant player, but it could improve how he's perceived around the league.
(h/t: The Oregonian)