Pominville won't play in Game 6; Roy may return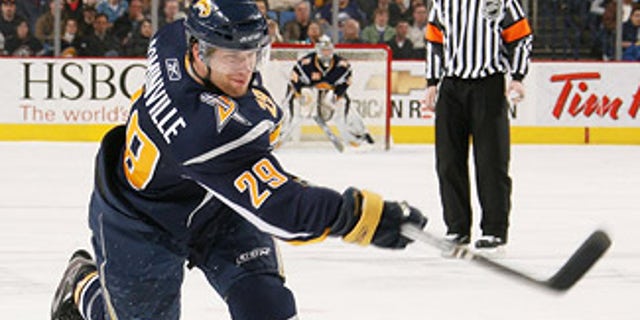 As one top forward departed the lineup, it appears the Buffalo Sabres could be close to getting at least one back.
Sabres coach Lindy Ruff said Saturday that forward Jason Pominville will not be available for Game 6 on Sunday (3 p.m. ET, NBC, TSN, RDS) due to a lower-body injury believed to be a lacerated left leg. Ruff would not comment when asked if Pominville's injury could be classified as long term.
But in Pominville's place could be Derek Roy, who hasn't played since Dec. 23 due to a torn quadriceps.
Roy has been skating with the team and said Thursday he was awaiting medical clearance to begin taking contact, and that decision would come four months after his injury; Saturday marked the four-month anniversary.
"Derek is very close," Ruff said following the Sabres' practice Saturday. "Very close. I would put him in the category of within days."
Jochen Hecht, who hasn't played since March 29 with an upper-body injury the Buffalo News is reporting is a concussion, also has been skating with the team. Ruff said, "Jochen Hecht is a matter of days, too.
"Help is on its way."
Hecht had 29 points in 67 games but has 58 games of playoff experience. Roy was leading the Sabres in scoring with 35 points in 35 games when he was hurt.
There's no guarantee Roy will receive the clearance that would let him play, but even if he does get in, it won't completely fill the void created by Pominville's absence.
Replays showed the forward appeared to suffer a laceration to his left leg just above the skate when he got tangled with Flyers forward James van Riemsdyk with 3:09 left in the first period of Game 5 on Friday. He took two strides, and then hopped off the ice, unable to put weight on his left leg, dropping his gloves and stick as he went directly to the locker room. He was seen leaving the building on crutches and wearing a boot that extended from his foot up to his calf.
Pominville had 4 points in five games, and his goal was the only score in the Sabres' 1-0 win in Game 4.
"Not having him in the lineup is tough," said forward Mike Grier. "He's one of our leaders, a guy we look to for offense and composure with the puck. He does a great job killing penalties and he's reliable. He'll be missed.
"Jason is a tremendous player for us," added goalie Ryan Miller. "He does everything for us -- kills penalties, power play, (even-strength) shifts. He's a guy you look to for big moments."
However, the Sabres know they can't dwell too long on any one player's absence.
"It's an opportunity for somebody else to step up," Miller said. "We have to say all the time, it's unfortunate we have to have this kind of talk about it, but it gives someone an opportunity and hopefully they'll step up and take it."
Contact Adam Kimelman at akimelman@nhl.com. Follow him on Twitter: @NHLAdamK