Poll Results: Logano safest of No. 9-12 seeds to advance in Chase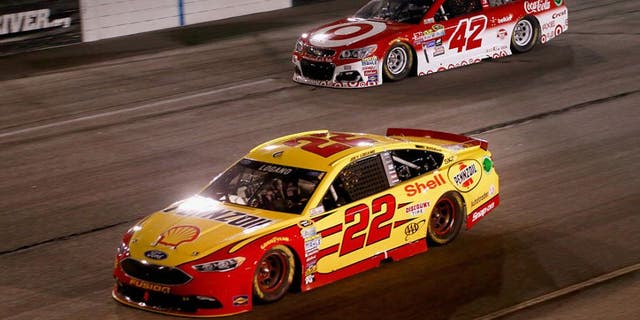 We asked you, the fans, to vote for which of the drivers seeded Nos. 9-12 was most likely to advance into the Round of 12 in the Chase for the Sprint Cup.
The results are in and it was an extremely even poll. Joey Logano, who is the No. 9 seed at the start of the Chase, led the poll with 36 percent of the vote.
First-time Chase contender, Kyle Larson, finished second with 21 percent of the vote, while Tony Stewart and Kurt Busch finished with 13 and 12 percent, respectively.
Over 15 percent of fans voted that all four drivers would advance to the Round of 12.
In each of the first two seasons of the elimination Chase format, two drivers who were seeded Nos. 13-16 advanced to the Round of 12, making the four drivers listed above the most likely to get bumped out of advancing to the next round.
Last season, Ryan Newman and Jeff Gordon were outside the top-12 and advanced to the Round of 12, knocking out Jamie McMurray who entered Chicagoland in 12th, and Jimmie Johnson who entered the Chase with the top seed.
In the first year of the elimination format, Ryan Newman and Matt Kenseth climbed above the cutoff line for the second round and knocked out Kurt Busch and Aric Almirola, who were seeded 10th and 12th, respectively.
Not that two years is enough to identify a trend, but if history repeats itself then Kurt Busch is in trouble with his No. 12 starting spot for the Chase.
We'll get to see if the trend continues or if all four of these drivers can hold on and advance to the Round of 12 in the Chase for the Sprint Cup.