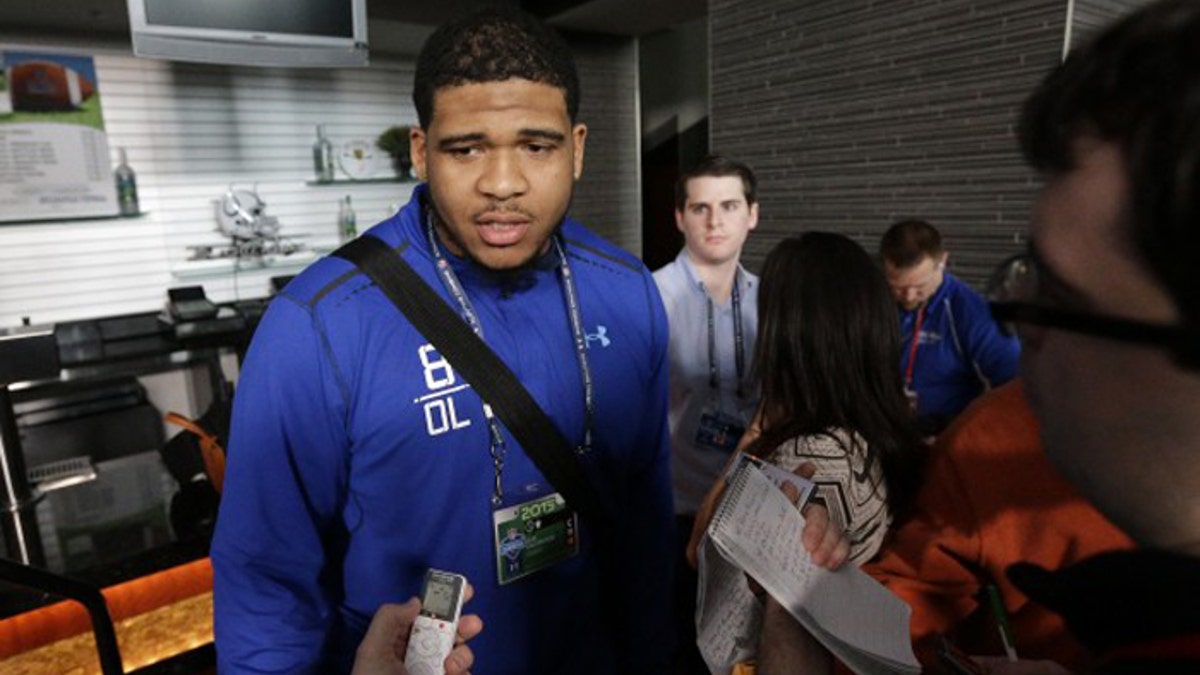 Police in Louisiana want to talk to an LSU football star projected to be selected in the first round of Thursday's NFL draft, after a pregnant woman linked to him was shot and killed in her home on Friday.
"There are numerous other people who are going to be interviewed."
La'el Collins, a three-year starter and by some accounts the best offensive lineman in the draft, has not been named as a suspect in the shooting of Brittney Mills, 29, Friday night in the doorway of her Baton Rouge home, but police in Baton Rouge say they want to talk to him. Collins, 21, is believed to have been romantically linked to Mills, but it is unclear if the baby, who survived, is his.
"There are numerous other people who are going to be interviewed," Baton Rouge Police spokesman Lt. Johnny Dunnam told the Baton Rouge Advocate. "So he is one of many."
Police also are interested in the results of a pregnancy test that could identify Collins as the father, Dunnam told the Shreveport Times.
First responders arrived at Mills' apartment shortly after 10:30 p.m. Friday found the residence door ajar and Mills, who was eight months' pregnant, dead from multiple gunshot wounds to the torso. Mills' body was rushed to a hospital, where her unborn son was successfully delivered. On Saturday, his condition stabilized, and officials say he is expected to live.
Jim Boren, the attorney for the 6 foot, 5 inch, 305-pound Collins, said he has been in touch with Baton Rouge detectives and said Collins, who is in Chicago to attend the draft, will cooperate. Boren, who called the timing of the investigation "poor," said a private investigator was hired to check out Collins' alibi and determined he was nowhere near the murder scene. Police believe Mills let someone she may have known into her apartment.
"We have identified where La'el was the day the lady was murdered to establish he was nowhere around," Boren told ESPN. "We have offered to give names, witnesses who can vouch for his whereabouts that day until after the woman's body was discovered."
Boren said Collins will meet with police when he returns to Louisiana following the draft.
The Times-Picayune reported that Collins is a former Eagle Scout whose background NFL scouts have described as squeaky-clean. But having his name mentioned in the context of a murder probe could scare teams from drafting him, according to NFL experts.
NFL.com draft guru Mike Mayock rates Collins as the top offensive tackle coming out of the college ranks to play pro football. He would be in line to sign a multimillion-dollar contract if selected where Mayock projects him to go.
"The reason I have La'el Collins as my No. 1 tackle is because out of that whole group he's the only one where I bang the table and say: 'I think I know exactly what I'm getting," Mayock said in a recent interview, according to The Times-Picayune.
The Advocate spoke to Tia Mills, Collins' sister, who said the victim left behind two children. When asked about her sister's relationship with Collins, she said, "I'm going to let that play out the way it's supposed to."
Mills told the newspaper her family is mourning their loss and concerned about the children left behind.
"She left behind two kids," Mills said, referring to her sister's 10-year-old daughter and newborn son. "They're going to grow up without their mom, and they didn't deserve that."